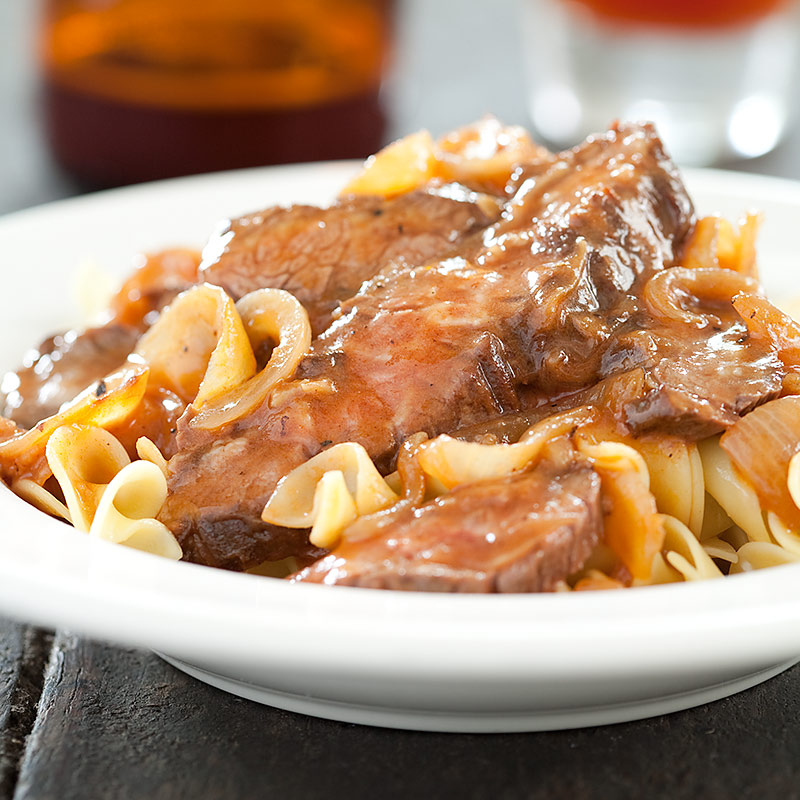 Quick Beef Carbonnade
This recipe is inspired by the slow-cooked, thick Belgian stew that melds hearty beef with the soft sweetness of sliced onions in a lightly thickened broth laced with the malty flavor of beer. We are able to achieve the same long-cooked flavor in a short time by using quick-cooking seared skirt steaks rather than chunks of stew meat that require braising. Incorporating rich-tasting caramelized onions, deglazing the pan with beer, and cooking the tomato paste with the garlic and flour further deepens the flavor. Belgian ales such as Chimay are the most authentic choice, but Newcastle Brown Ale or O'Doul's Amber also work well. Serve over egg noodles.
3 T. vegetable oil
4 onions, halved and sliced thin
salt
pepper
2 skirt steaks (about 12 oz. each)
2 T. all-purpose flour
1 T. tomato paste
3 garlic cloves, minced
2 C. low sodium chicken broth
1 C. beer
Heat 2 T. oil in saucepan over medium heat until shimmering.  Add in onions, 1/2 tsp. salt, and 1/4 tsp. pepper; cook, stirring occasionally, until deep brown and caramelized, about 15 minutes. Meanwhile, pat steaks dry with paper towels and season with salt and pepper. Heat remaining oil in large skillet over med-high heat until just smoking. Cook steaks until well browned, 3-5 minutes per side. Transfer to cutting board and tent with foil. Add flour, tomato paste, and garlic to empty skillet and cook until beginning to brown, 1-2 minutes. Slowly stir in broth and beer, scraping up any browned bits and cook until slightly thickened, about 15 minutes. Stir in caramelized onions. Slice steak thin against the grain, add to skillet, and cook until heated through, about 2 minutes. Season with salt and pepper; serve.
Simple Side Parsleyed Egg Noodle:Â  Cook 8 ounces egg noodles in salted boiling water, drain, and toss with 2 T. butter and 1 T. chopped fresh parsley. Season with salt and pepper. Serves 4.