BBQ Duck Filled Blue Corn Pancakes with Habañero Sauce
BBQ Duck Filled Blue Corn Pancakes with Habañero Sauce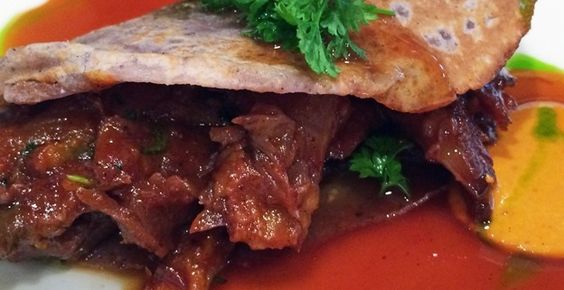 2 pounds duck legs (about 6), skin removed
1 cup Mesa Grill BBQ Sauce or your favorite store brand
3 cups Enriched Chicken Stock or lowsodium chicken broth
Habanero Sauce (recipe follows)
3 T. coarsely chopped fresh cilantro
Kosher salt and freshly ground black pepper
½ cup blue cornmeal
½ cup all-purpose flour
tsp. baking powder Pinch of
1 kosher salt
1 large egg, beaten
¾ cup whole milk
2 T. honey
1 T. unsalted butter, melted
Nonstick cooking spray
Fresh cilantro leaves, for garnish (optional)
Preheat the oven to 325 degrees F. Generously brush the duck legs with the barbecue sauce and place them in a baking pan. Pour the stock and ½ cup of the habanero sauce around them. Cover the pan, place in the oven, and cook for about 2 hours, or until the meat begins to fall off the bone.  To make the pancakes, combine the cornmeal, flour, baking powder, and salt in a medium bowl. In a separate bowl, whisk together the egg, milk, honey, and butter; add the wet ingredients to the dry ingredients and mix until combined. Place a 6-inch nonstick pan over high heat. Spray with cooking spray and reduce the heat to medium. Ladle ¼ cup of the pancake mixture into the pan, swirling to evenly coat the pan with the mixture. Cook the pancake until just set on the first side, about 1 minute. Flip over and cook for an additional 20 to 30 seconds. Remove to a plate and repeat with the remaining mixture, stacking the pancakes and covering them with aluminum foil to keep warm. You should have 8 pancakes.  Remove the duck from the braising liquid and set aside to cool slightly.  Strain the braising liquid and reserve. When the duck is cool enough to handle, shred the duck meat into bite-sized pieces and discard the bones.  Combine the shredded meat with ½ cup of the reserved braising liquid in a sauté pan over medium heat until heated through. Add the chopped cilantro and season with salt and pepper to taste. Mound some of the duck mixture in the center of each pancake. Fold the pancake over the filling to make a semicircle and drizzle with the remaining habanero sauce and the smoked red pepper sauce. Garnish with cilantro leaves.
Habanero Sauce
10 cups Enriched Chicken Stock or low-sodium chicken broth
1 cup apple juice concentrate, thawed
3 T. dark brown sugar
2 star anise
1 cinnamon stick
½ habanero chile, coarsely chopped
1 T. fennel seeds, toasted
Kosher salt and freshly ground black pepper
Combine the stock, apple juice, brown sugar, star anise, cinnamon, habanero, and fennel seeds in a large
saucepan; place over high heat and boil, stirring occasionally, until reduced to 1 cup, about 1 hour. Strain into a bowl and season with salt and pepper to taste. This can be made up to 2 days in advance and refrigerated. Warm over low heat before serving.