Green Olives with Spicy Breadcrumbs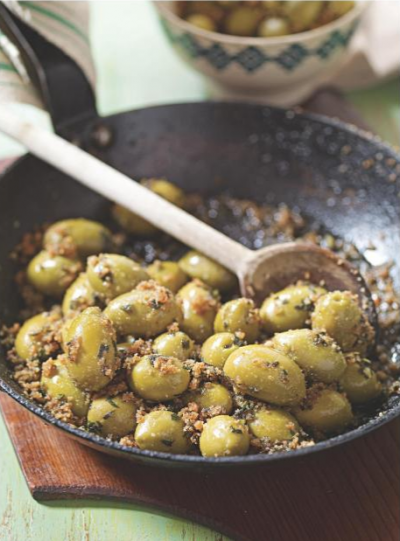 Green Olives with Spicy Breadcrumbs
1/4 C. extra virgin olive oil
2 T. fresh chopped parsley
1 garlic clove minced
Pinch crushed pepper
2 C. green olives such as Sicilian, drained, rinsed and patted dry
1 T. red or white vinegar
1 C. plain dry breadcrumbs.
IN a medium skillet over medium heat, add the oil with the parsley, garlic, red pepper and cook until fragrant. Add the olives to the pan with the vinegar and cook while stirring until the olives are warm and the vinegar evaporated, about three minutes. With a slotted spoon, transfer the olives to a serving bowl.
Add the breadcrumbs to the pan and cook while stirring constantly, until evenly toasted, about three minutes. Toss the olives with the breadcrumbs and serve warm.