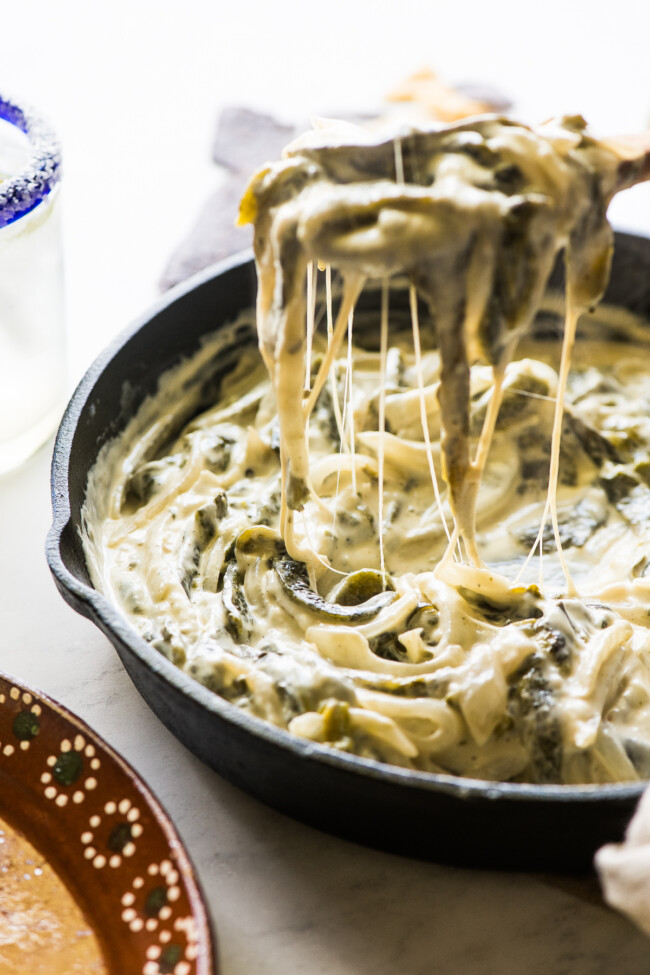 Rajas con Crema
5 poblano peppers
1 T. butter
1 medium onion, sliced root to tip, ¼"
2-3 cloves garlic, minced
1/2 tsp. coarse kosher salt, plus more to taste
3/4 cup Mexican crema (store bought or homemade)
1 cup shredded Oaxaca cheese
Line a baking sheet with aluminum foil and place poblano peppers on top. Set your oven rack directly underneath the broiler and turn the broiler on high. Broil poblanos in the oven for 5 minutes, or until the skin is blackened and blistered. Carefully flip them over and broil for another 5 minutes, or until the skin is blackened and blistered on all sides. Remove them from the oven, loosely cover the baking sheet with aluminum foil or plastic wrap to keep in some of the heat to help them steam and let them sit for 5 minutes. Pull and rub off as much of the loose skin on the peppers as possible. It doesn't have to be perfect. Transfer poblanos to a cutting board, discard the stems and seeds. Cut poblanos into strips and set aside. Heat butter in a large skillet over medium-high heat. Add onions and cook for 5 minutes, until softened and translucent. Add garlic and cook for 30 seconds, stirring frequently. Add roasted poblano pepper strips, Mexican crema, and salt. Stir together to combine and cook for 2 more minutes.  Add shredded cheese and stir together until the cheese completely melts. Remove from heat and serve immediately in warm tortillas or with tortilla chips.
If poblanos are too spicy for you, use anaheim peppers or bell peppers instead.
If poblanos are not spicy enough, add in some a sliced jalapeno or serrano pepper.
Make this dish a little more hearty with the addition of cooked shredded chicken. Add it in the skillet along with the sliced peppers.
Need a little more texture? Add in 1 cup of frozen corn kernels when cooking the onions.