Kuku Sabzi (Persian Herb Frittata)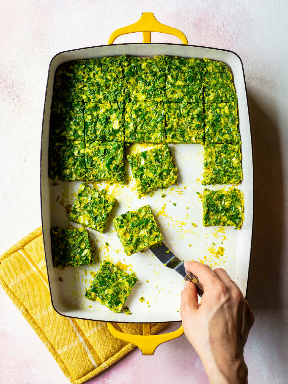 Kuku Sabzi (Persian Herb Frittata)
Kuku sabzi can be served warm, cold, or at room temperature – making it the perfect make ahead dish and picnic favorite!
4 T. extra-virgin olive oil
5 oz chopped baby spinach (about 4 cups)
3 cups thinly sliced green onions
3 cups finely chopped fresh cilantro leaves and tender stems
2 cups finely chopped fresh parsley leaves
1 cup finely chopped fresh dill leaves and tender stems
12 large eggs
2 T. all-purpose flour
2 tsp. kosher salt
1 1/2 tsp. ground turmeric
1/4 tsp. freshly ground black pepper
Fresh mint leaves, for garnish (optional) Preheat the oven to 375°F [190°C] and set an oven rack in the middle position. In a large nonstick skillet, heat 1 Tbsp of the oil over medium-high heat. Add the spinach and green onions and cook until softened and wilted, about 2 minutes. Transfer to a large bowl and let cool for 10 minutes. Add the cilantro, parsley, and dill and stir to combine. In another bowl, whisk the eggs until lightly beaten. Add the flour, salt, turmeric, and pepper and whisk until smooth. Pour the mixture into the bowl with the herbs and stir until combined. Add the remaining 3 Tbsp of oil to a 9 in [23 cm] square pan and tilt the pan to coat the bottom and sides. Pour the egg mixture into the pan and transfer to the oven. Bake until the eggs are just set, about 30 minutes. Let cool for at least 10 minutes before cutting into 16 squares. Serve warm or at room temperature. Garnish with mint leaves before serving, if desired. Store, refrigerated, in a Stasher bag or an airtight container for up to 3 days.
To fry the kuku instead of baking::Â  Preheat 2 Tablespoons of olive oil over medium high heat in a 12 inch skillet. When the oil begins to ripple, pour half of the kuku mixture into the pan, lower heat to medium and cook until the kuku is set on the bottom and beginning to set on the top. Use the flat end of a spatula to divide the kuku into wedges. Flip one wedge at at time and continue to cook until the kuku is fully set and there is no raw egg in the middle. Move the cooked kuku onto a plate and repeat with the other half of the batter, adding more olive oil before you add the batter.