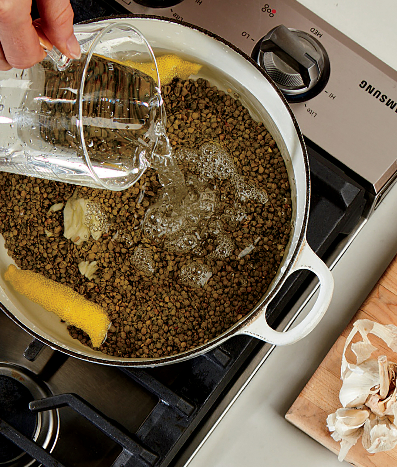 Lemon-Garlic Lentils
Lentils are greedy little things, soaking up all the water and, crucially, all the flavor in the pot around them. Classically, that flavor is an herb (fresh thyme or rosemary, dried herbes de Provence), but add too much and the lentils can go from earthy to muddy.
1 large lemon
2¼ cups dried green, brown, or French lentils, rinsed and picked over
2 garlic cloves, gently smashed
2 tsp. kosher salt
Using a vegetable peeler or paring knife, cut 2 long strips of peel from the lemon, avoiding the white pith. (Reserve the rest of the lemon for another use) In a medium saucepan, combine the lentils, lemon strips, smashed garlic cloves, and salt. Pour in enough water to cover the lentils by 3 inches. Bring the water to a rapid simmer over medium-high heat, then reduce to a gentle simmer and cook until the lentils are tender, about 20 minutes. Drain the lentils and let cool in the colander. Remove and discard the garlic and lemon peels before serving.