Baked Raspberry Oatmeal with a Brown Butter Drizzle
Baked Raspberry Oatmeal with a Brown Butter Drizzle
Waking up to a warm breakfast isn't hard to do when this baked raspberry oatmeal is on the menu! You can make it the night before and then reheat the next morning, served with a drizzle of brown butter.
3 cups old-fashioned rolled oats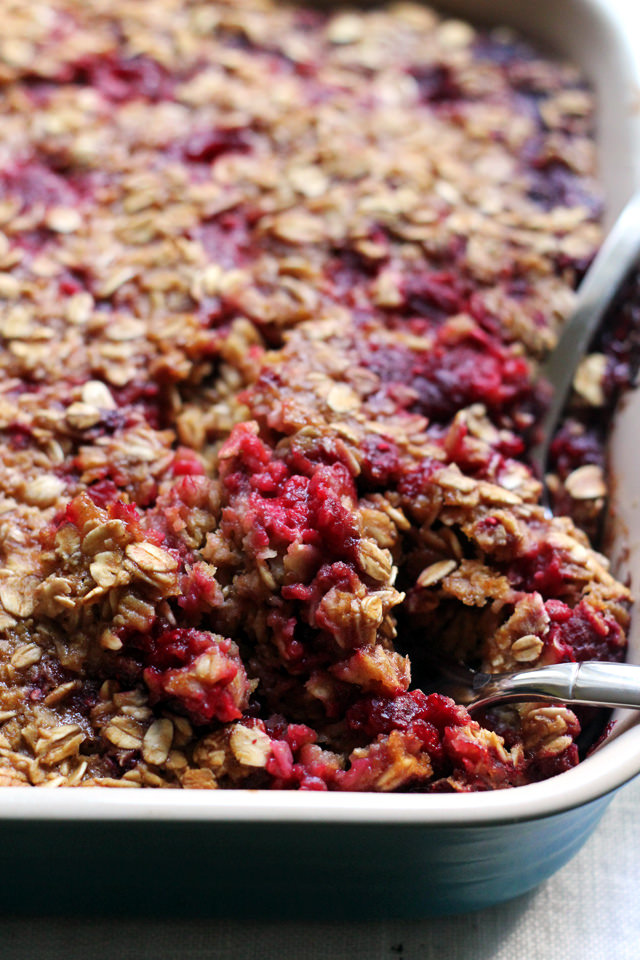 1 cup dark brown sugar
1 tsp. ground cinnamon
½ tsp. salt
1 cup canned light coconut milk
â…" cup pumpkin puree
2 T. unsalted butter, melted
2 large eggs, lightly beaten
2 tsp. vanilla extract
2 cups frozen raspberries
2 T. unsalted butter, browned
Heat oven to 350F. Spray an 8-inch square baking pan with nonstick spray. Set aside. In a large bowl, whisk together the oats, brown sugar, cinnamon, and salt. In a smaller bowl, whisk together the coconut milk, pumpkin, eggs, vanilla, and melted butter. Fold the wet ingredients into the dry ingredients. Pour the raspberries into the batter and stir to combine. Pour the batter into the prepared baking pan and spread evenly. Bake for 35-40 minutes, or until the top of the oatmeal is set. Let cool for a few minutes and then serve with a drizzle of brown butter.