Instant Pot Lentil Soup
Instant Pot Lentil Soup
Instant Pot Lentil Soup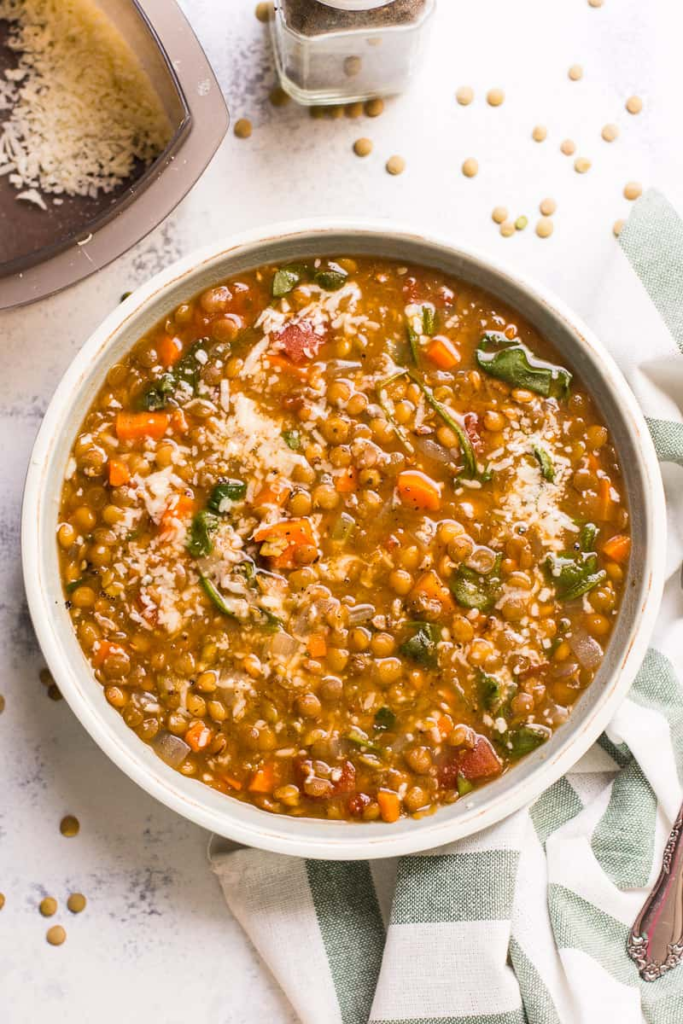 1 medium onion, chopped
2 large carrots, chopped
2 small celery, chopped
2 C. green or brown lentils, rinsed & drained (uncooked).  Red Lentils OK, but reduce cooking time by 14 minutes.
28 oz can diced or crushed tomatoes, low sodium
2 tsp. cumin
2 tsp. oregano
1 tsp. salt
Ground black pepper, to taste
2 bay leaves
2 bouillon cubes + 10 C. water or 10 C. veggie stock, low sodium
11 oz box of spinach or kale
1 large garlic clove, grated
Parmesan cheese, for serving
In Instant Pot, add onion, carrot, celery, lentils, tomatoes, cumin, oregano, salt, pepper, bay leaves and bouillon cubes. Add water enough to fill up to 2/3 full line or approximately 10 cups. Close the lid, set pressure vent to Sealing and press Pressure Cook on High pressure for 18 minutes. Display will say ON, Instant Pot will take about 30 minutes to come to pressure, you will see a bit of steam coming out from a valve, then float valve will rise and countdown from 18 minutes will begin. Lentil soup is ready but your Instant Pot needs to bring pressure down before you can open it, which will be indicated by a dropped down float valve. You can let it do it on its own which will take less than an hour – Natural Release. OR you can do Quick Release by turning pressure valve to Venting position, which takes 3-4 minutes. I recommend doing so outside to avoid the mess and smell. Open the lid, add spinach and garlic, stir and serve hot garnished with Parmesan cheese.  Make Ahead: Refrigerate chopped veggies with spices in an airtight container for up to 3 days and mix with the rest when ready to cook.
Freezer Meal: Add all ingredients in the order listed in the recipe minus water, spinach and garlic and freeze uncooked in a gallon size Ziploc bag. Cook from frozen with 10 or 14 C. of water for 20 minutes. Do quick release, then add spinach and garlic.