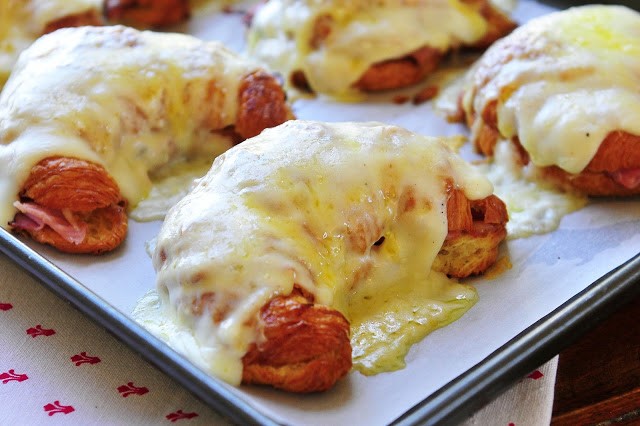 2 T. of butter
3 T. flour (I used brown rice flour to make it gluten free)
2 cups of hot milk
1 tsp. of salt
1/2 tsp. of pepper
Pinch of nutmeg
12 ounces of Gruyere cheese, grated
1/2 C. freshly grated parmesan
8 croissants or 16 slices of white bread
Dijon mustard
8 ounces of ham, sliced
Preheat oven to 400 degrees. Line a cookie sheet with parchment paper. Melt butter in a small sauce pan, add flour and stir for 2 minutes. Slowly pour in hot milk and whisk until sauce is thick. Remove from heat and stir in salt, pepper, nutmeg, 1/2 C. of Gruyere cheese and Parmesan cheese. Stir until cheese is melted and set aside. Cut the croissants in half and place on the cookie sheet. Bake for 4 minutes, flip and bake for an additional 2 minutes. Remove croissants, spread Dijon mustard on one half. Add the ham and Gruyere Cheese, top with croissant. Spoon cheese sauce over each sandwich, top with more Gruyere cheese. Bake in the oven for 5 minutes or until tops are browned.