French Cherry Tomato Tart with Dijon Mustard & Chevre
French Cherry Tomato Tart with Dijon Mustard & Chevre
French Cherry Tomato Tart with Dijon Mustard & Chevre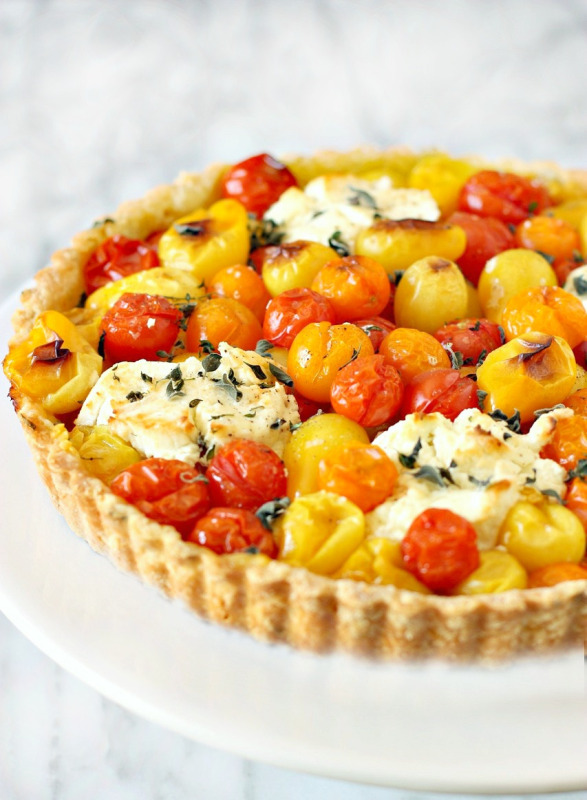 Yields one 9- or 10-inch tart
One unbaked tart dough, placed on the tart pan (see recipe, below)
Dijon or whole-grain mustard, to taste
8 ounces goat cheese, sliced into 1-ounce rounds
2 pints of cherry tomatoes (or 2-3 large tomatoes, sliced)
1/4 cup olives, pitted (optional)
2 tablespoons olive oil
salt and freshly ground pepper, to taste
2 tablespoons chopped fresh thyme or your favorite herbs
Heat oven to 400 degrees F.  Spread an even layer of mustard on the bottom of the tart dough.  Place 4 rounds of goat cheese on top of the mustard.  Arrange tomatoes (and olives, if using) on top of the cheese. Place remaining 4 rounds of cheese on top of the tomatoes.  Drizzle olive oil over the tomatoes, season with salt and ground pepper, and sprinkle chopped thyme.*  Bake the tart for 30 to 40 minutes, until the dough is cooked and the cheese is nicely browned.
*Note: I usually add chopped herbs after about 20 minutes of baking time so that they don't burn.  For this recipe, I added some additional chopped thyme to the dough for extra flavor.
Tart Dough
Yields dough for one 9- or 10-inch tart
1 1/2 cups flour
1/2 teaspoon salt
freshly ground black pepper, to taste
1 generous tablespoon chopped thyme (optional)
4 1/2 ounces unsalted butter, chilled, cut into cubes
1 large egg
2-3 tablespoons ice cold water
Mix the flour, salt, pepper, and chopped thyme in a medium-sized bowl. Add the butter and using your hands, pastry blender, or two forks, cut the butter into the flour/thyme mixture until it resembles a crumbly, cornmeal-like consistency.  Mix the egg with 2 tablespoons of the water. Make a well in the center of the flour mixture and add the beaten egg, stirring gently until the dough holds together. Add the additional tablespoon of ice water, if needed.  Gather the dough into a ball and roll the dough on a lightly floured surface, adding only the minimum amount of flour to keep the dough from sticking to the counter. Roll the dough around the rolling pin and then unroll it over the tart pan with a removable bottom. "Dock" the dough by pressing the tart dough firmly with your fingertips to make a few indentations. Be careful not to press too hard to tear the dough.