BBQ Chicken Quesadillas and Mexican Sour Cream Rice
BBQ Chicken Quesadillas and Mexican Sour Cream Rice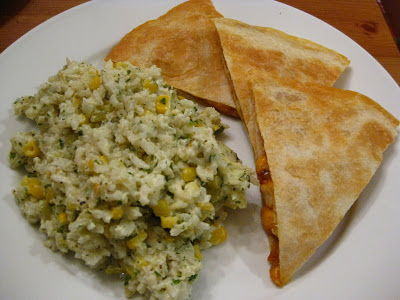 BBQ Chicken Filling for Quesadillas
2 T.  oil
1-1/2 onions (vidalia is preferred) sliced into rings
1 T. honey
2 chicken breasts, diced
1/2 C. BBQ sauce
1 C. shredded mexican cheese
Heat one T. of the oil in a pan over medium high heat. Add the onions and cook until they begin to caramelize. Mix in the honey and stir until it is golden brown. Remove and set aside. Place the remaining oil in the pan and add the chicken. Cook through over a medium high heat. Stir in the BBQ sauce to evenly coat the chicken.  Use chicken, onions and cheddar as filling for quesadillas.
Mexican Sour Cream Rice
1 C. uncooked long grain white rice
1 (14 ounce) can chicken broth
1 C. sour cream
1 (4 ounce) can diced green chile peppers
2 C. shredded pepper Jack cheese, divided
1 1/2 C. frozen corn
1/4 C. finely chopped fresh cilantro
salt and ground black pepper to taste
In a large pot, bring the rice and chicken broth to a boil. Reduce heat to low, cover, and simmer 20 minutes. Preheat oven to 350. Lightly grease a 1-1/2 quart casserole dish.  In the pot with the cooked rice, mix the sour cream, green chile peppers, 1 C. pepper Jack cheese, corn, and cilantro. Season with salt and pepper. Transfer to the prepared casserole dish, and top with remaining cheese. Bake uncovered 30 minutes in the preheated oven, until cheese is bubbly and lightly browned.