Pan-Roasted Pork Chops with Honey Riesling Grapes
Pan-Roasted Pork Chops with Honey Riesling Grapes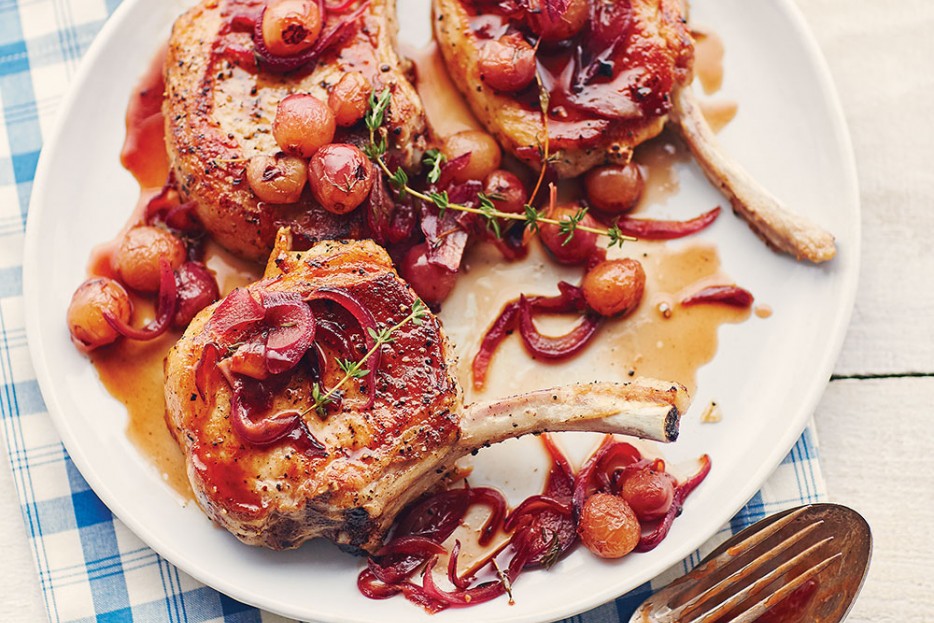 Pan-Roasted Pork Chops with Honey Riesling Grapes
4 thick, meaty bone-in or boneless pork chops
½ tsp. (2 mL) of salt
Lots of freshly ground pepper
A splash or two of vegetable oil
1 red onion, thinly sliced
2 C. (500 mL) of seedless red grapes
½ cup (125 mL) of Riesling or your favorite white wine
2 T. (30 mL) of honey
1 T. (15 mL) of white wine vinegar
Tender stems from 6 or 8 sprigs of fresh thyme, finely minced
Generously season the pork chops with salt and pepper. Heat a large skillet with a tight-fitting lid over medium-high heat for a minute or two. Splash in enough vegetable oil to evenly cover the bottom of the pan. Vigorously sear the chops until they're golden brown and crusty on both sides, 2 or 3 minutes each side. The goal here is not to fully cook the meat but to add lots of brown flavor while the pan's temperature is still high. Toss in the onions and grapes. Turn the heat to its lowest setting, cover with the lid and cook for 5 minutes. Remove the chops to a plate and rest the meat while you quickly craft the sauce. Increase the heat to medium-high and pour in the wine. Stirring gently, bring to a furious boil, quickly reducing the wine to sauce consistency. Stir in the honey, vinegar and thyme. Drench the pork chops and serve.
Refrigerate: Tightly seal the pork chops with the grapes within 30 minutes of cooking and refrigerate for up to 6 days before reheating.
Freeze: Portion, tightly seal and freeze for up to 30 days. Thaw in the refrigerator for 1 or 2 days before reheating. Tightly seal leftovers and store in the refrigerator for just a few days.