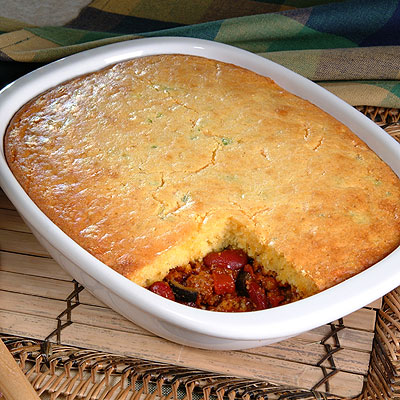 2 lbs. ground beef
1 large chopped onion
1 large chopped green or red bell pepper
1 cup tomato sauce
1 can chopped black olives
1 1/2 cups yellow corn meal
3/4 lbs. shredded cheddar cheese
1 tsp. ground cumin or 2 tsp. chili powder
1/2 tsp. salt
1/2 tsp. ground black pepper
1/2 tsp. salt (once again)
To a large skillet add ground beef, onion, green pepper, cumin, salt and pepper. Saute until beef is browned and veggies are soft. Drain fat from pan. Add tomato sauce and stir until boiling. In medium sauce pan, stir 2 1/2 cups water, corn meal and 1/2 tsp. salt. Bring mixture to boil until thickened. Grease huge casserole (hot dish) dish, coat bottom of casserole (hot dish) dish with half the corn meal mixture, pour beef mixture into casserole (hot dish), cover top with chopped or sliced black olives. Layer cheddar cheese over top of that. Spoon remainder of hot corn meal mixture over entire top. If need be, make another batch of corn meal mixture for top. Bake at 350 degrees until top is golden brown and bubbly.