Fiddlehead Salad with Sesame Vinaigrette
Fiddlehead Salad with Sesame Vinaigrette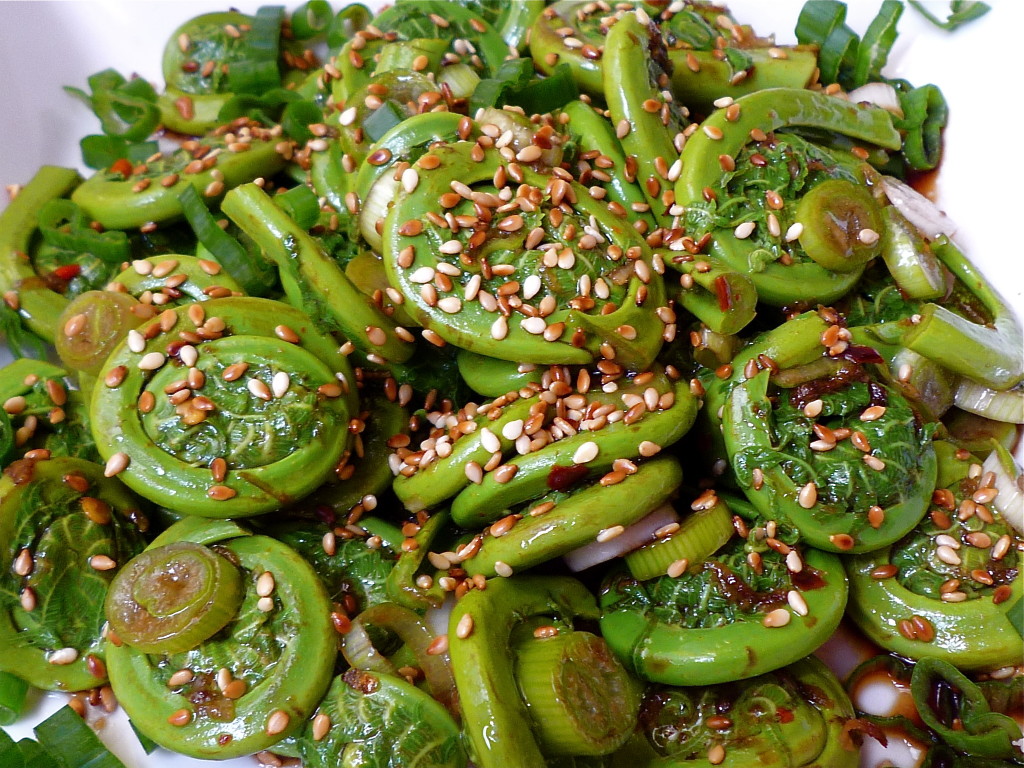 4 cups of fiddleheads, cleaned and trimmed of any brown parts
Large bowl of ice water
1-1/2 teaspoons toasted sesame seeds
3 large green onions (scallions) cut into thin slices, white parts only – reserve some chopped green ends for garnish
Vinaigrette:
2 teaspoons rice vinegar
3 Tablespoons peanut oil or other neutral oil such as canola or safflower (avoid using peanut oil if there is a concern about peanut allergies)
½ teaspoon Asian sesame oil
1 Tablespoon dark sodium-reduced soy sauce
¼ teaspoon red pepper flakes (or more, to taste)
1 teaspoon sugar
1 clove garlic, very finely minced
 
Prepare a large bowl of ice water and set aside. Fill a saucepan with enough water to just cover 4 cups of fiddleheads and bring to a boil. Add fiddleheads and cook until just tender, about 5 minutes. Drain fiddleheads and plunge immediately into the ice water to stop cooking. Drain again and place on a dishtowel or paper towel to dry thoroughly. In a small bowl, prepare vinaigrette. Add rice vinegar, peanut oil, sesame oil, soy sauce, red pepper flakes, sugar and garlic and whisk until well combined. Place cooked fiddleheads and green onion slices in a bowl and toss with vinaigrette until dressing evenly coats the fiddleheads. Place salads on a plate and garnish with toasted sesame seeds and a sprinkling of green onion slices.