Kofta-Style Chicken Stuffed Peppers with Yogurt Mint Sauce
Kofta-Style Chicken Stuffed Peppers with Yogurt Mint Sauce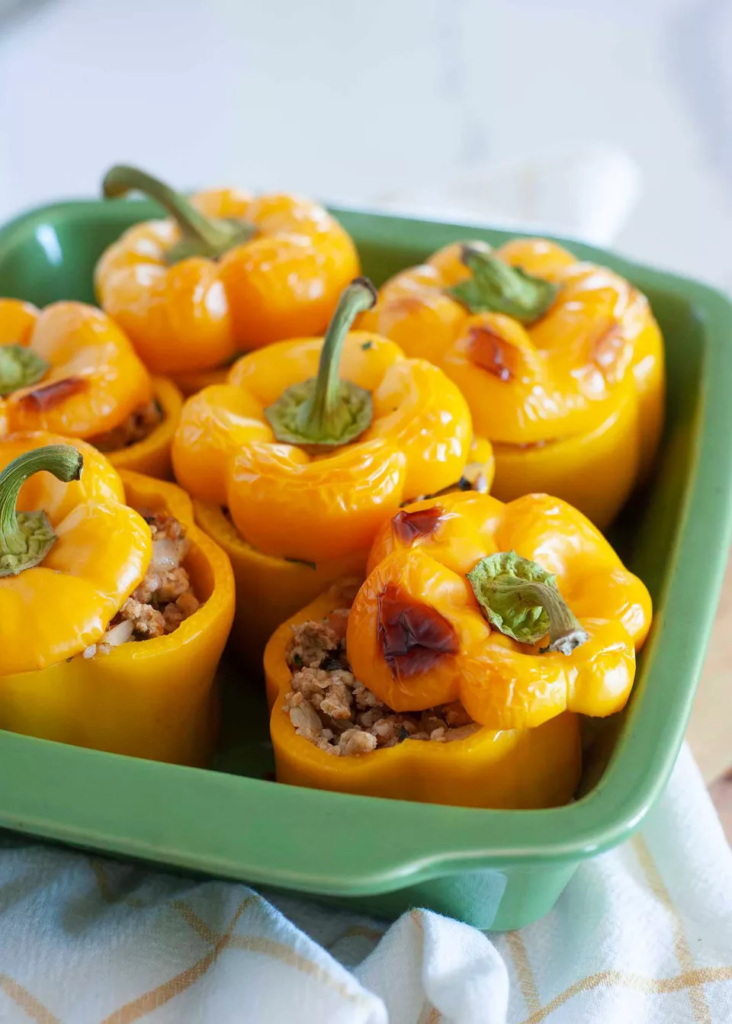 Kofta-Style Chicken Stuffed Peppers with Yogurt Mint Sauce
1/2 cup whole-grain bulgur
1 T. extra-virgin olive oil
1 medium chopped yellow onion
4 large cloves garlic, minced
2 tsp. ground cumin
1 tsp. ground coriander
3/4 tsp. red chili flakes
1 1/2 tsp. kosher salt
1 lb. ground chicken
2 medium diced tomatoes (or one 15-oz can diced tomatoes, drained well)
1/2 cup chopped fresh cilantro
1/2 cup chopped fresh mint
6 medium red, yellow, or green bell peppers
For the yogurt sauce:
1 1/2 C. non- or low-fat plain Greek yogurt
2 T. extra-virgin olive oil
1 1/2 T. fresh lemon juice, from 1 lemon
1/4 cup finely chopped fresh mint
3/4 tsp. kosher salt
Preheat oven to 400°F. In a medium saucepan bring 1 1/4 C. water to a boil. Add the bulgur and stir. Reduce the heat to medium low so it simmers. Cover the pan and cook until tender, about 12 minutes. Set aside. In a large skillet set over medium-high heat add the olive oil. Once the oil shimmers, add the onion and garlic and sauté until tender, about 5 minutes. Add the cumin, coriander, chili flakes, salt, chicken, and tomatoes. Cook just until the chicken is done, breaking it up like taco meat, about 7 minutes. Stir in the cilantro, mint, and cooked bulgur. Remove from heat. Cut the tops off the bell peppers and pull out the seeds and membranes. Set the peppers upright in a baking pan large enough to accommodate them. Divide the filling among the peppers. Set the tops on the peppers. Bake until the peppers are tender and slightly shriveled, but still firm, 30 to 35 minutes.  In a small bowl, stir together yogurt, olive oil, lemon juice, mint, and kosher salt. Serve peppers warm with yogurt sauce on the side.