Salted Caramel Apple Sheet Cake
Salted Caramel Apple Sheet Cake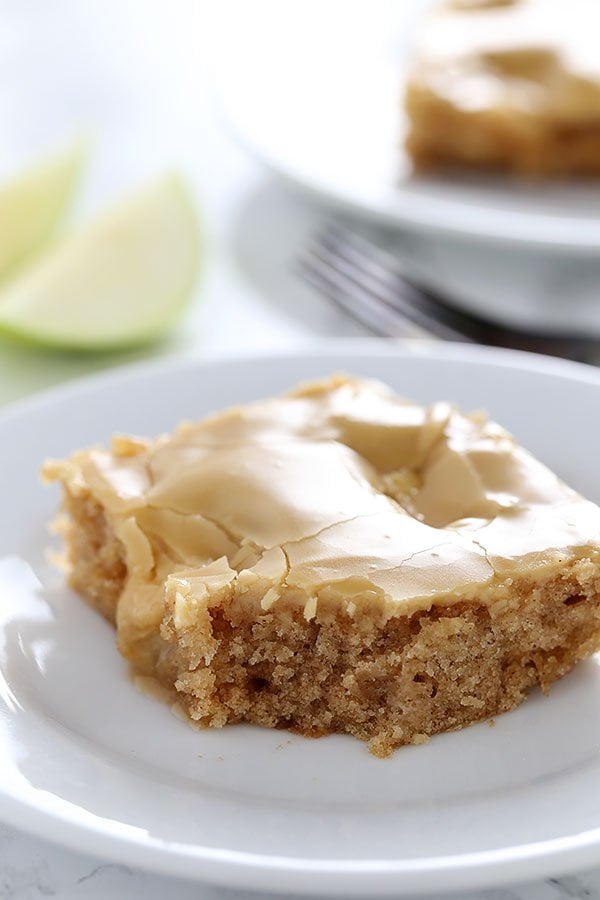 Salted Caramel Apple Sheet Cake
2 C. (254 grams) all-purpose flour
1/2 tsp. baking soda
1/4 tsp. salt
1 C. (200 grams) granulated sugar
1 C. (200 grams) lightly packed light brown sugar
1 tsp. ground cinnamon
2 sticks (227 grams) unsalted butter
1/2 C. (120 ml) buttermilk
2 large eggs
1 tsp. vanilla
2 C. (200 grams) peeled and chopped Granny Smith apples (about 2 medium apples)
For the glaze:
1 stick (113 grams) unsalted butter
1/4 C. (60 ml) milk
3 C. (375 grams) powdered sugar, sifted
1/2 tsp. vanilla extract
1/4 C. salted caramel sauce (homemade or store-bought)
Make the cake: Preheat the oven to 400°F. Butter or oil a 10-by-15-inch jellyroll pan or a 16-3/4 by 12-inch sheet pan. In a large bowl, combine the flour, baking soda, salt, granulated sugar, brown sugar, and cinnamon. In a medium saucepan over medium-high heat, combine the butter with 1 C. water and heat until the butter melts. Bring to a boil. Once the mixture is boiling, remove from heat and add in the flour mixture. Add in the buttermilk, eggs, and vanilla. Gently stir in the apples. Pour the batter into the prepared pan, spreading evenly. Bake for 20 minutes if using a jelly roll pan, and about 17 minutes if using a half sheet pan, or until a toothpick inserted comes out clean. Let cool in the pan on a wire rack for about 10 to 15 minutes. Make the glaze: Meanwhile, combine the butter and milk in a large heat-proof bowl. Microwave until the butter is melted. Gradually stir in the powdered sugar until combined. Stir in the vanilla and caramel until combined. Pour evenly over the warm cake. Let set for about 15 minute before slicing and serving.