Peach Upside Down Mini Cakes
Peach Upside Down Mini Cakes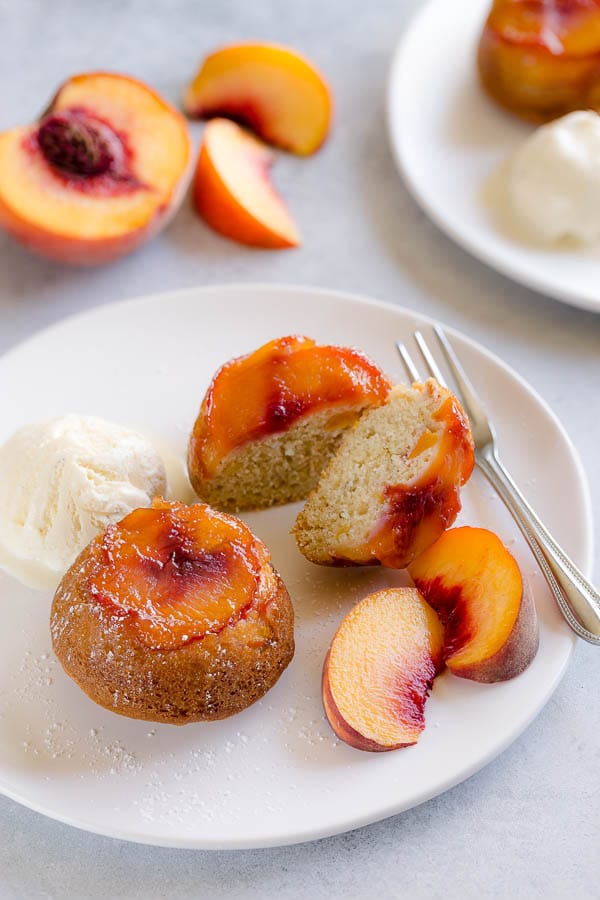 Peach Upside Down Mini Cakes
Non-stick cooking spray
1 T. unsalted butter cold
6 tsp. light brown sugar
For cake batter:
3 fresh peaches (Note 1)
1 ½ C. (190g) all-purpose flour
1 tsp. baking powder
½ tsp. baking soda
¼ tsp. salt
2/3 C. (130g) granulated sugar
1/3 C. (90g) unsalted butter at room temperature
1 large egg at room temperature
1 tsp. pure vanilla extract
½ C. (120ml) buttermilk at room temperature (Note 2)
Preheat the oven to 350°F (177° C). Spray muffin pan with non-stick cooking spray. To prepare the topping: Cut 1 T. of butter into 12 equal parts. (TIP: cold butter is easier to cut.) Place each butter piece in 12 muffin C.. Sprinkle ½ tsp. of brown sugar into each muffin C.. Slice 1-2 peaches into thin slices. Arrange about 3 slices into the bottom of each muffin pan. To make the cake batter: Cut the remaining peaches into small cubes. You should get about 1 C. of cubed peaches. Set aside. In a small bowl, whisk together flour, baking powder, baking soda and salt. In a mixing bowl with paddle attachment, beat butter and sugar together until fluffy and creamy, about 2 minutes. Add egg and vanilla extract and beat it for another 2-3 minutes, or until well combined. The mixture should be fluffy and white. (Note: It's totally normal for the mixture to curdle right after adding egg, but keep mixing and it'll turn nice and fluffy!) Add half of the flour mixture into the batter, beat for 1 minute on low speed. Stir in the buttermilk and beat for another minute. Add the remaining flour mixture and beat just until combined. Don't overmix the batter, or it'll make tough cake. Fold in the cubed peaches. Divide the batter into 12 muffin pan C..  Bake for 25-30 minutes, or until inserted toothpick comes out clean. Cool the cakes in the pan for 5 minutes. Then carefully run a butter knife around the edges to release the cake from the sides. Now, place a wire rack over the muffin pan and carefully turn the pan upside down to remove the cakes. Place an empty baking sheet to catch any juice, if needed. Cool the cakes completely before serving.