Lemon Sponge Cake with Pear Marmalade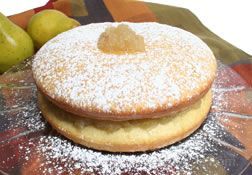 Lemon Sponge Cake with Pear Marmalade
Pear Marmalade needs to sit at least 3 hours; Make the day before.
Unsalted butter, for greasing the cake pans
2½ cups cake flour
½ tsp. salt
2 tsp. baking powder
5 T. extra virgin olive oil
¾ cup granulated sugar
3 large eggs
Grated zest of 6 lemons
½ cup whole milk
¾ cup pear marmalade
Confectioners' sugar, for garnish
Preheat the oven to 350°. Butter and flour two 8­inch round cake pans. In a medium bowl, toss the flour, salt, and baking powder with a fork to mix well. In a large bowl, beat the olive oil & sugar together with an electric mixer until well blended. Add the eggs one at a time, beating well after each addition. Put the dry ingredients in a sifter & sift about one third onto the egg mixture. Add the lemon zest & fold in the flour and zest, then stir in about one third of the milk. Add the remaining flour and milk in two additions each, blending well. Turn batter into the prepared cake pans. Bake for 25 minutes, or until cakes are beginning to pull away from sides of the pans & spring back when pressed lightly in the center with a finger. Turn the cakes out onto a rack, & invert onto another rack to cool. To assemble, place one cake layer on a serving plate and spread marmalade over the top. Place the second layer on top and gently press the layers together. Sprinkle the top of the cake with confectioner's sugar.
For Pear Marmalade
2 lbs. firm unripe pears, peeled, cored, and chopped into small pieces
1 ½ C sugar
3 cloves
1 T freshly ground black pepper
In a large bowl, mix the pears, sugar, and cloves together. Cover with a kitchen towel and aside for at least 3 hours to let juices start to run. Transfer the pear and juice to a large nonreactive saucepan, bring to a simmer, and simmer gently, stirring frequently with a wooden spoon to prevent sticking, until the pears are tender. Remove from the heat, stir in the pepper, remove the cloves, & allow to cool.