Greek Meatballs in Tomato Sauce
Greek Meatballs in Tomato Sauce
Greek Meatballs in Tomato Sauce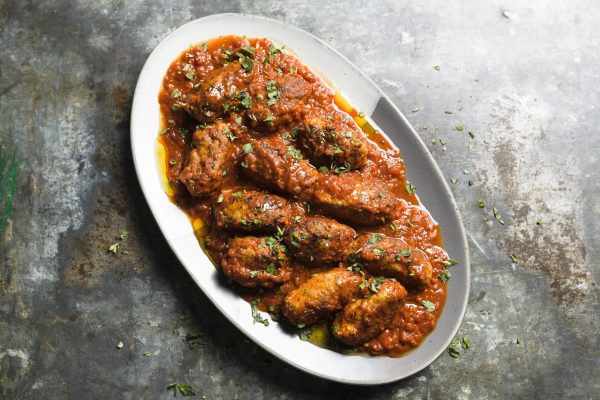 These Greek cigar-shaped meatballs are known as soutzoukakia smyrneika. The spicing reflects the dish's origins in Smyrna, a former Greek settlement and now the Turkish city of Izmir. Soutzoukakia often are made with beef or a combination of beef and pork, but we preferred the subtle sweetness and tender texture of all-pork meatballs. An instant thermometer is the best way to check for doneness; alternatively, cut open a meatball—if done, the center should no longer be pink. Soutzoukakia often is served with tiganites patates (potatoes fried in olive oil), but roasted potatoes, crusty bread or a rice or orzo pilaf also are delicious accompaniments.
½ cup panko breadcrumbs
1 large egg
1 pound ground pork
2 tsp. ground cumin
3 medium garlic cloves, 2 finely grated, 1 thinly sliced
¾ tsp. red pepper flakes, divided
2 T. finely chopped fresh oregano, divided
Kosher salt and ground black pepper
2 T. extra-virgin olive oil, plus more to serve
128-ounce can crushed tomatoes
½ tsp. ground cinnamon
2 tsp. honey
In a medium bowl, combine the panko, egg and ½ cup water, then mix until homogeneous. Let stand for 5 minutes to allow the panko to hydrate. Add the pork, cumin, the grated garlic, ½ tsp. pepper flakes, 1 T. oregano, 1 tsp. salt and ½ tsp. black pepper, then mix well. Divide into 12 portions (each about a scant ¼ cup), then shape each into a 2½-inch-long cigar shape. In a 12-inch nonstick skillet over medium-high, heat 2 T. of oil until shimmering. Add the meatballs and cook without disturbing until browned on the bottoms, 2 to 3 minutes. Using tongs, flip the meatballs and cook until browned on the second sides, another 2 to 3 minutes. Remove the skillet from the heat, transfer the meatballs to a paper towel–lined plate and set aside. Return the skillet to medium-high and add the sliced garlic. Cook, stirring, until fragrant and starting to brown, 1 to 2 minutes. Add the remaining ¼ tsp. pepper flakes and cook, stirring, until fragrant, about 30 seconds. Stir in the tomatoes, cinnamon, honey, ½ tsp. salt and ¼ tsp. black pepper, then bring to a simmer. Place the meatballs in the pan and return to a simmer. Cover and simmer, undisturbed, until the centers of the meatballs reach 160°F, 12 to 14 minutes. Transfer the meatballs and sauce to a serving dish. Drizzle with additional oil and sprinkle with the remaining 1 T. oregano.