Sheet Pan Greek Chicken and Potatoes
Sheet Pan Greek Chicken and Potatoes
Sheet Pan Greek Chicken and Potatoes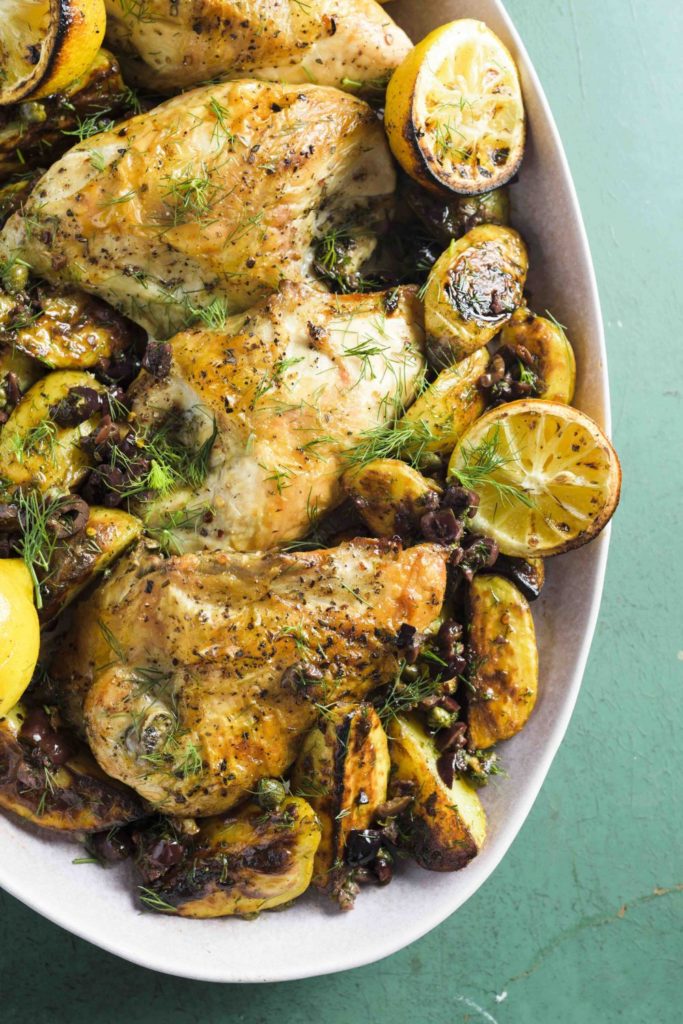 Don't use extra-large bone-in chicken breasts if you can help it; 12-ounce pieces work best. If unavoidable, keep in mind that bone-in breasts weighing about 1 pound each require 40 to 50 minutes of roasting.
1 tsp. dried oregano
¼ to ½ tsp. red pepper flakes
Kosher salt and ground black pepper
Four 12-ounce bone-in, skin-on chicken breasts or 3 pounds bone-in, skin-on chicken thighs, trimmed and patted dry
2 T. extra-virgin olive oil
1½ pounds medium Yukon Gold potatoes, unpeeled, cut into 1-inch-thick wedges
2 lemons, halved crosswise
8 medium garlic cloves, peeled
½ cup pitted Kalamata olives, roughly chopped
2 T. drained capers
3 T. roughly chopped fresh dill, divided
Heat the oven to 475°F with a rack in the middle position. In a large bowl, stir together the oregano, pepper flakes, 2 tsp. salt and ½ tsp. black pepper. Sprinkle 2 tsp. of the mix onto all sides of the chicken. To the remaining seasoning mix in the bowl, add the oil, potatoes, lemon halves and garlic, then toss to coat.  Place the garlic in the center of a rimmed baking sheet, then arrange the chicken, skin side up, around the garlic; this placement helps prevent the garlic from scorching during roasting. Arrange the lemons, cut sides up, and the potatoes in an even layer around the chicken. Roast until the thickest part of the breasts (if using) reaches 160°F and the thickest part of the thighs (if using) reaches 175°F, about 30 minutes. Using tongs, transfer the chicken and lemon halves to a serving platter. Push the potatoes to the edge of the baking sheet, leaving the garlic in the center. Using a fork, mash the garlic to a rough paste. Add the olives, capers and 2 T. of the dill to the baking sheet, then, using a wide metal spatula, stir and toss the ingredients, scraping up any browned bits. Transfer the potato mixture to the platter, placing it around the chicken. Sprinkle with the remaining 1 T. dill.