Creamy Asiago Bacon Wrapped Roasted Onions
Creamy Asiago Bacon Wrapped Roasted Onions
Creamy Asiago Bacon Wrapped Roasted Onions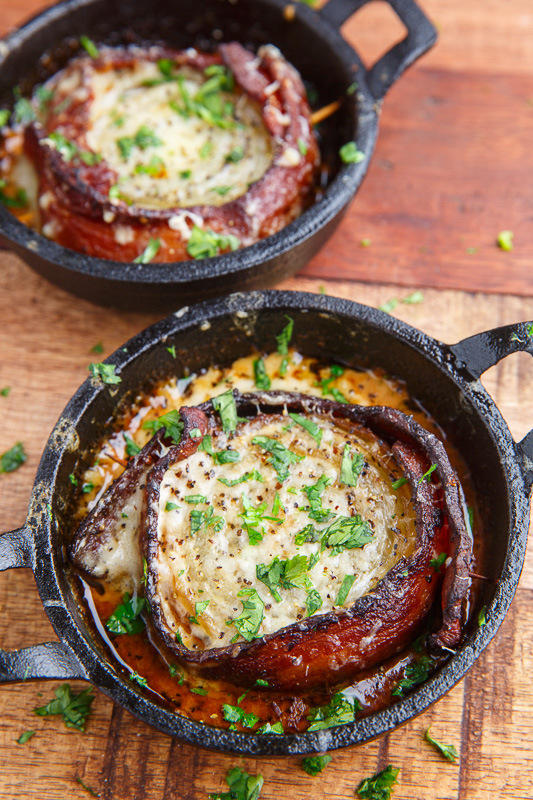 4/8 slices thick cut bacon
2 large onions, peeled and cut in half
2 tsp. olive oil
1 tsp. thyme, chopped
salt and pepper to taste
1 C. beef broth (or mushroom broth)
1/2 C. heavy cream
1 tsp. Worcestershire sauce
1/2 C. of asiago cheese (or parmesan), grated
Pre-cook the bacon until it's starting to get cooked but it's still soft and pliable and set aside on paper towels to cool. Wrap the onion halves with the bacon, optionally pinning it on with toothpicks, and place them in a baking dish before drizzling them with oil and seasoning with thyme, salt and pepper to taste.
Pour the mixture of the broth, cream and Worcestershire around the onions and roast in a preheated 375F/190C oven until the onions are nice and tender, about 30-45 minutes depending on how thick they are. (You may need to cover with foil if the edges of the bacon start to get too dark to prevent burning.)
Sprinkle the cheese on and bake until it has melted, just a few minutes. Option: Throw some full cloves of garlic into the pan with the sauce!
Yield: 4 servings
Calories 179
Fat 13.5g
Fiber 1.7g,