Wildflower Violet Popcorn
Wildflower Violet Popcorn
Wildflower Violet Popcorn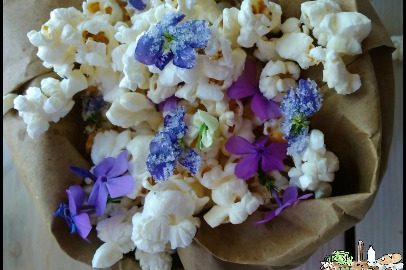 1 C. Popcorn in 1/4 C. increments
1/4 C. Butter
1/4 C. Coconut Oil
Sea Salt
Fresh edible flowers OR sugared violets or other sugared flowers
Gather fresh, edible flowers.  Be sure you know what you're foraging – some wild blooms are NOT edible.  You may also use sugared violets or other sugared flowers in your violet popcorn. If using fresh flowers, gently shake off any dust or debris.  If you must rinse them, place them in a salad spinner to get them as dry as possible.  Place them on a towel or dehydrator rack to dry completely.  You may also place your blooms in the refrigerator for a bit, if you can't use them right away.  Work quickly, though – blooms like violets will begin to curl up and fade rather quickly. Using an air popper, pop up fresh popcorn in 1/4 C. increments. OR, follow the manufacturer's instructions for your air popper.  As the popper is popping, slowly melt the butter and coconut oil on the stove top. Once the popcorn is popped, add melted fats a few T. at a time to the popcorn bowl as you sprinkle with sea salt and stir gently. Repeat this process, adding fat, salt and stirring until all the melted fats are gone. Allow to cool completely. Gently toss in fresh edible flowers or sugared violets.
Calendula
Cornflowers
Cosmos
Dianthus
Field Daisies
Johnny jumps-ups (violas)
Pansies
Pineapple Sage Blossoms
Red Bud blossoms
Rose Petals
Sweet William
Violets.