Grilled Maitake Mushrooms
Grilled Maitake Mushrooms
Grilled Maitake Mushrooms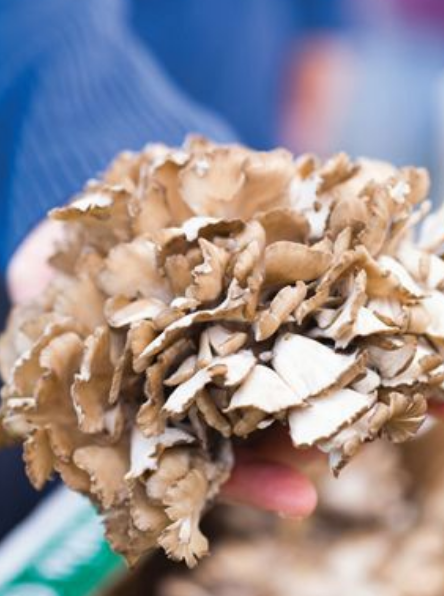 Start this recipe the night before serving so that the mushrooms can marinate overnight. Widely known as "hens of the woods" because of their richness and dense texture, maitakes can look intimidating, like a strange piece of brown coral. But they're delicious, meaty, and easy to work with. If you've never tried maitakes, I encourage you to experiment with them. Portobellos, shiitakes, or any mushroom big enough to grill may also be used.
1 C. olive oil
1/2 C. soy sauce
2 scallions, green and white parts separated, and green parts thinly sliced
2 cloves garlic, peeled and crushed
2 T. honey
5 T. white wine
Salt and freshly ground black pepper
1 1/2 lb. maitake mushrooms
1/2 bunch watercress, roots trimmed
Put the olive oil, soy sauce, scallion whites, garlic, honey, and 2 T. of the wine in a blender and blend until smooth. Season with salt. Cut the maitake into slices 1 inch thick. It's important that each slice be attached to the large stem at the bottom; otherwise the slice will fall apart and be hard to handle on the grill. To avoid this problem, simply pick up the mushroom and look at where the stem is. Turn the mushroom on its side while gently slicing, making sure the connection between the frilly part of the mushroom and the stem stays intact. Place the slices in a shallow rimmed dish and coat them with the marinade. Cover and refrigerate overnight. Heat a grill until it's very hot and arrange the maitakes on the grill, reserving the marinade. Press the slices with a metal spatula to form grill marks and brush them with some of the reserved marinade. Grill for 3 minutes, then turn and press down with the spatula again. Brush with some of the remaining marinade and grill for 2 minutes more. Set the maitakes aside. Heat a sauté pan over high heat and add the reserved marinade and the remaining 3 T. white wine. Bring to a boil and reduce for a few minutes, until the sauce coats the back of a spoon. To serve, arrange a bed of watercress on four individual plates. Slice the maitakes into a few pieces and divide among the plates, arranging them on top of the watercress. Season with salt and pepper. Spoon the sauce over the mushrooms and garnish with the scallion greens.