Witches Hat Not-Nachos
Witches Hat Not-Nachos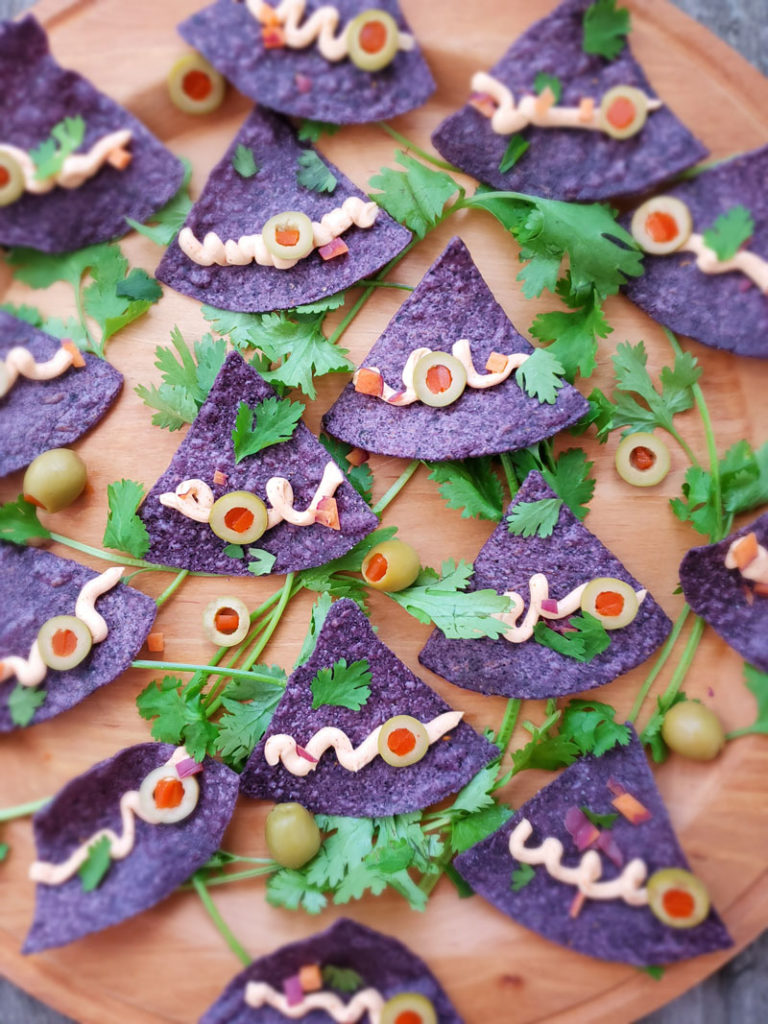 Witches Hat Not-Nachos
8 oz cream cheese softened
1 T. taco spice if you like it spicy add some cayenne
1 tsp. fresh lemon juice
couple drops orange food coloring red & yellow or brown
2 T. sliced green olives
2-3 T. fresh cilantro chopped
1-2 T. carrot diced small
1 bag blue tortilla chips
1 resealable plastic storage bag
In a small bowl mix together cream cheese, taco seasoning, lemon juice & a couple drops of food coloring. Stir well until all ingredients are well combined. Spoon into plastic storage bag, squishing out air and sealing. Lay out your chips on a serving platter/dish. Remove any broken pieces. Cut off a tiny corner of the storage bag. Squeeze to drizzle cream cheese on each chip giving them a unique design replicating the band on hat. Sprinkle on green olives, carrots & cilantro.
Instead of carrots you could use bell peppers and if you do not like the taste of cilantro, substitute in flat leaf parsley for the cilantro.
Try fresh herbs like basil, dill, mint or parsley mixed with cream cheese, omitting the taco seasoning for a slimy green look.
Make cream cheese the day before, store in refrigerator, remove a couple hours before serving to soften up before piping your hats.