Pumpkin Pie Seeds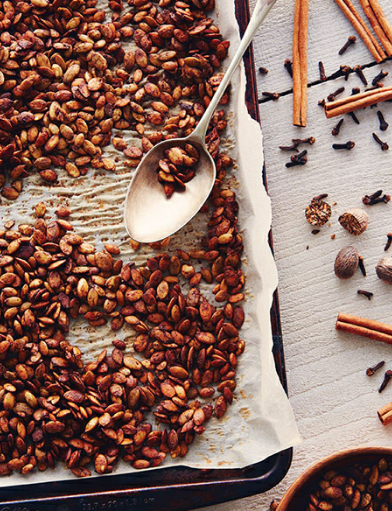 Simmer the seeds a few days in advance and leave to soak in their brine, ready to strain and bake when the time comes (see Storage Tip).
4 C. (1 L) of water
1 cup (250 mL) of brown sugar
¼ cup (60 mL) of Sriracha or your favorite hot sauce
2 T. (30 mL) of salt
2 T. (30 mL) of ground ginger
1 T. (15 mL) of ground allspice
1 T. (15 mL) of cinnamon
1 T. (15 mL) of nutmeg
1 tsp. (5 mL) of ground cloves
4 C. (1 L) of unsalted raw pumpkin seeds
Preheat your oven to 350°F (180°C). Turn on your convection fan if you have one. Line a baking sheet with parchment paper or foil and lightly oil the paper or foil. Measure everything except the pumpkin seeds into a small saucepan and bring to a slow, steady simmer for a few minutes. Stir in the pumpkin seeds and simmer for a few minutes so they soften. Turn off the heat and rest long enough for the flavors to absorb, at least 15 minutes. Strain the seeds, reserving the reusable liquid. Spread them evenly on the prepared pan. Bake, without stirring, until lightly crisped and browned, 15 to 20 minutes. As they cool, they'll crisp further. STORAGE TIP Room Temperature: Cool the seeds, tightly seal in a zip-top bag and store for up to 10 days.