Slow Cooker Sweet & Spicy Chicken
Slow Cooker Sweet & Spicy Chicken
Slow Cooker Sweet & Spicy Chicken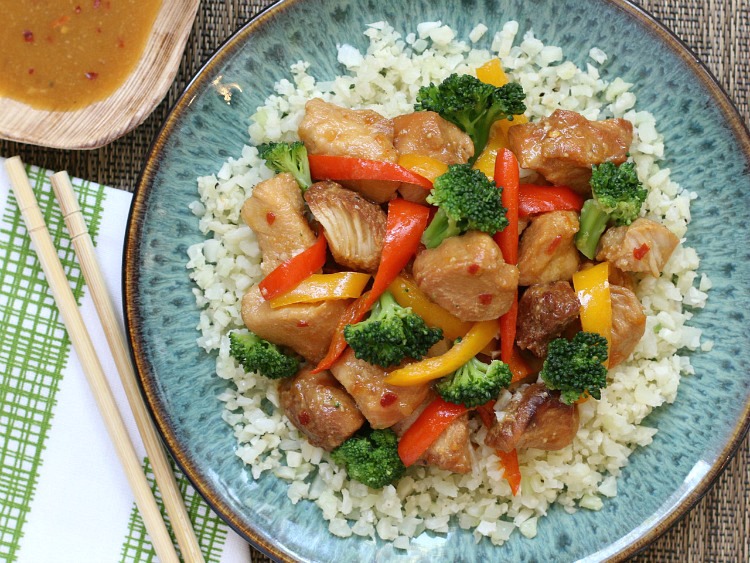 3 lb. boneless, skinless chicken thighs
1 red bell pepper, seeded and sliced
1 yellow bell pepper, seeded and sliced
3 C. broccoli florets
For the sweet & spicy sauce:
2 C. all-fruit apricot jam
2 cloves garlic, minced
2 T. coconut aminos
2 T. dry mustard
2 tsp. dried minced onion
2 tsp. sea salt
1/2 tsp. ground ginger
1/2 tsp. red pepper flakes (use more for a spicier sauce)
2 T. arrowroot powder (for thickening sauce)
Cut chicken thighs into bite-size chunks and place into a 6-quart slow cooker. Cut the veggies as noted above. Place in a bowl and refrigerate until ready to use, as noted below. In a medium bowl, whisk together the apricot jam, garlic, soy sauce or coconut aminos, mustard, onion, salt, ginger, and red-pepper flakes. Pour over the chicken. Cover and cook on low for 4 to 5 hours. Check chicken at the 4-hour mark, if it's not cooked through, continue cooking. Once the chicken is cooked through, add the sliced bell peppers and broccoli florets. Then, continue cooking on low until veggies are al dente (about 30-45 minutes). Use a slotted spoon to remove chicken and veggies from slow cooker and place in a serving dish. Whisk in the arrowroot powder to thicken the sauce, if desired. To serve, ladle the sauce over the chicken and veggies. Serve over basmati rice or cauli-rice.