Colcannon Cakes with Poached Eggs & Hollandaise
Colcannon Cakes with Poached Eggs & Hollandaise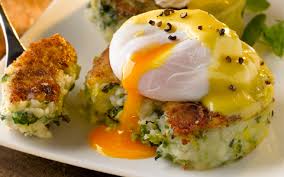 Colcannon Cakes with Poached Eggs & Hollandaise
Colcannon:
2 1/2 pounds of russet potatoes, peeled and cut into large chunks
Salt
5 Tbsp unsalted butter
3 lightly packed cups of chopped chard, kale, spinach, or cabbage
1/2 cup of green onion greens, chopped
1 cup milk or cream
Colcannon cakes:
About 3 cups of colcannon
1 cup flour
1 egg
2-3 teaspoons salt
4 Tbsp butter or vegetable oil
Lemon for garnish
Poached Eggs, for serving
Hollandaise Sauce, for serving
Diced Scallion or Chives, for serving
Make the colcannon: Make the colcannon first (see our colcannon recipe.) Put potatoes in a pot, cover with cold, well salted water by an inch, bring to a boil, and cook until fork tender, about 15 to 20 minutes.  Drain the potatoes and remove them from the pot. Melt the butter in the still warm pot, add the chopped greens, cook for 3-4 minutes until wilted, then add the green onions and cook for another minute. Add the potatoes, milk or cream to the pot, mash until everything is well mixed.  Mix with egg, flour, salt, and chill: Mix the egg, flour and salt in with the colcannon. You may want to chill the mixture for 15 minutes or longer to make it easier to shape the patties.  Form into patties: Form into little cakes of whatever size you want but make them flat so they will cook through without burning. If the mixture is too wet, add more flour until the mixture is easy to shape. Fry until golden: Heat the butter or vegetable oil in a large pan over medium-high heat. Working in batches, place the formed patties in the pan so they are not touching. Lower the heat to medium and gently fry until golden, about 3-4 minutes.  Turn and cook the other side. Let the cakes rest on a paper towel while you cook the others.  Top with Poached Egg, Hollandaise, and diced Scallion or Chives for garnish.