Pasteis de Bacalao (Brazilian Salted Codfish Savories)
Pasteis de Bacalao (Brazilian Salted Codfish Savories)
Pasteis de Bacalao (Brazilian Salted Codfish Savories)
A popular Street food in Brazil, pasteis have a pleasant texture as the Caçhaca bubbles when fried.  Hearts of Palm can be substituted for the codfish to make pasteis de palmito.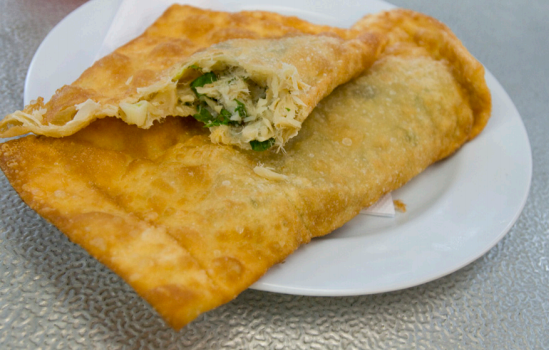 2 lb. Dried Codfish
Water, as needed
2 T. finely minced Parsley
2 T. Olive Oil
Salt, Pepper, to taste
2 C. Flour
½ T. Salt
2 tsp. Sugar
2 T. Caçhaca
½ C. Water
Oil for Frying
Reconstitute the dried codfish in water for 12 hours, changing the water once. 2. Cover the codfish with water in a large Dutch oven and bring the water to a boil, then cook the codfish for one minute. Remove from the heat and cool. 3. Shred the codfish, removing any bones, and place in a large non-reactive bowl. Toss with olive oil, parsley, salt and pepper. 4. For the pasteis dough: sift the flour onto a clean work surface and make a well in the middle. Add salt, sugar, and cachaça to the well and stir with a fork to work the ingredients into the dough, slowly adding water. Knead the dough until smooth and pliable and rest for 15 minutes. 5. Using a rolling pin, roll out the dough to 1/8 inch thickness and cut out rectangles, 4 inches wide by 6 inches long. 6. Divide the filling into 8 equal portions and arrange on one side of the dough. Wet the edges with water, fold the dough and press down with a fork to seal. Place the pasties on a sheet pan lined with parchment paper and cover with plastic wrap until ready to fry. 7. Heat the oil in a fryer or in a large, shallow pot to 350°F and fry the pasteis until light brown and crispy on all sides. e 8. Serve immediately.