Savory Mortadella, Garlic, and Caper Puff-Pastry Waffle
Savory Mortadella, Garlic, and Caper Puff-Pastry Waffle
WIW: Savory Mortadella, Garlic, and Caper Puff-Pastry Waffle
Follow the recipe for WIW: Crisp, Flaky, Pepperoni Pizza Puff Pastry Waffles , rolling puff pastry to a 16" square, topping it with mortadella, garlic and capers, then rolling it up and twisting into a spiral.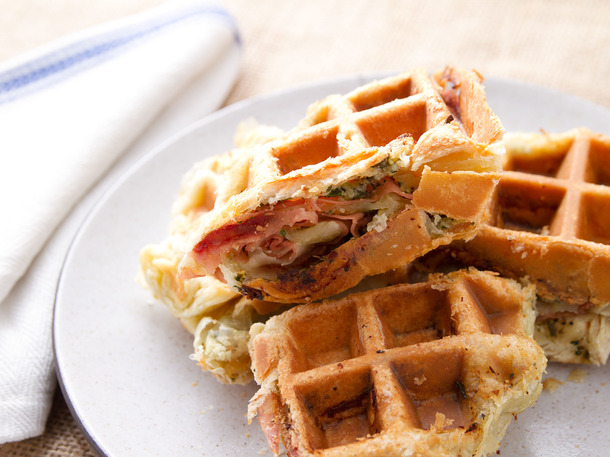 ¼ C. EVOO
1/4 C. loosely packed parsley leaves and tender stems (about 4 sprigs)
5 medium garlic cloves
1 T. capers
Kosher salt and freshly ground black pepper
1/4 lb. thinly sliced mortadella or bologna
All-purpose flour, for dusting
1 (1/2-lb.) sheet frozen puff pastry, thawed
Preheat a Belgian waffle iron according to manufacturer directions. Combine olive oil, parsley, garlic, and capers and, using a mini food processor or an immersion blender, process into a semi-smooth sauce. Season with salt and pepper. Lightly dust a work surface. Lay out puff pastry sheet, lightly flour top, and roll into an approximate 16- by 16-inch square. Spread garlic sauce on puff pastry, leaving a 1 inch border on all edges. Layer mortadella on top, leaving a 1-inch border on all edges. Roll puff pastry sheet away from you like a jelly roll. When completely rolled, pinch seam to seal. Pinch ends of puff pastry to seal, then coil into a disk-shaped spiral. Place spiral in center of preheated waffle iron. Cook until puff pastry is deep golden brown on all surfaces and an instant-read thermometer inserted into the center registers 190 to 200°F, about 12 minutes. Transfer to a cutting board, cut into wedges, and serve immediately.