Authentic Carne Asada & Grilled Mexican Street Corn
Authentic Carne Asada & Grilled Mexican Street Corn
Authentic Carne Asada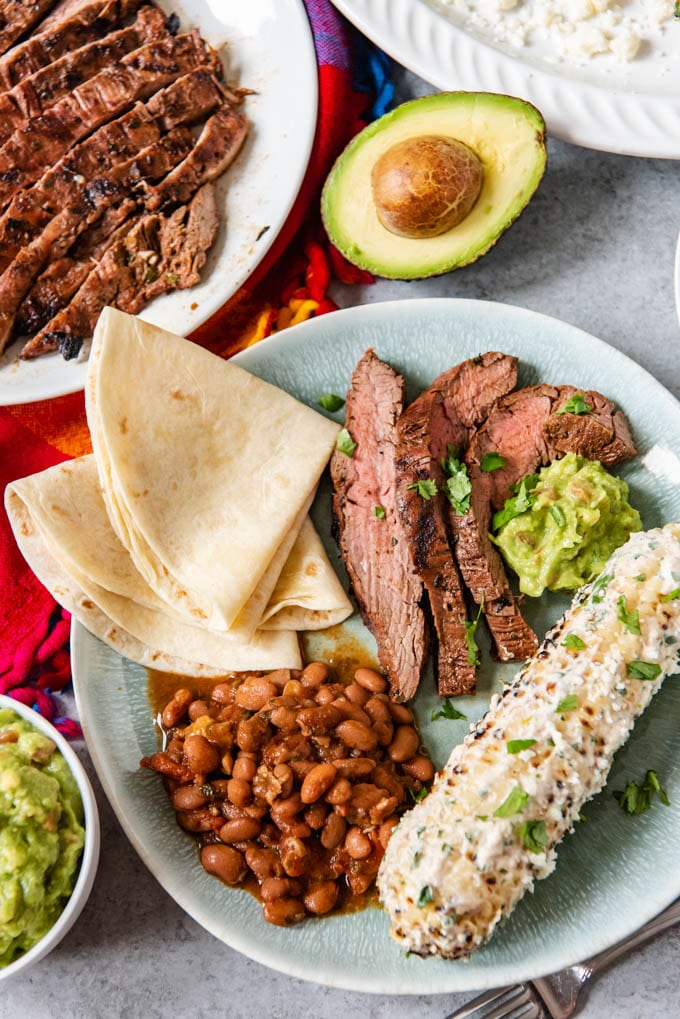 2 pounds skirt steak, flank steak, or beef flap meat
1/3 C. orange juice
1/4 C. lime juice
2 T. olive oil
2 T. soy sauce
2 T. apple cider vinegar
1 jalapeno, minced with seeds removed
1/2 bunch cilantro, chopped
1/4 C. chopped green onions
6 cloves garlic, minced
2 T. brown sugar
1 1/2 tsp. cumin
1 tsp. chili powder
1 tsp. chipotle chili powder
1 tsp. smoked paprika
1 tsp. oregano
1 tsp. salt
3/4 tsp. pepper
Place the meat in a large gallon-size zip-tight bag or glass bowl.  Mix together all of the remaining marinade ingredients, then pour over the meat.  Seal the ziploc bag tightly and squish the marinade around the meat to make sure it is covering all parts of the meat, then place in the refrigerator and allow to marinate for at least 5 hours, up to 12 hours.   Heat a grill to high heat and clean and lightly oil the grates.  When the grill is hot, add the meat and grill to your desired level of doneness, between 5-8 minutes per side, depending on the thickness of the meat.   Remove the meat from the grill and let it rest for 5-10 minutes before slicing against the grain into thin slices.  Serve with tortillas, beans, rice, and pico de gallo.
Grilled Mexican Street Corn
8 medium ears sweet corn, husks removed
1/2 C. sour cream or Mexican crema
1/2 C. mayonnaise
1/2 C. cilantro, chopped
2 cloves garlic, minced
1/4 tsp. chipotle pepper
2 tsp. lime zest, from one lime
2 T. lime juice, from one lime
1 C. cotija cheese, crumbled and divided
Additional chopped cilantro, for garnish
Lime wedges, to serve
Heat a gas grill to 400 degrees F or prepare charcoal for a charcoal grill.  Husk the corn. While the grill is heating, mix together the sour cream, mayonnaise, cilantro, garlic, chipotle pepper, lime zest, lime juice, and 1/2 C. of the cotija cheese.  Taste and season with salt, if needed. Grill the corn by placing the husked corn directly onto the grill grates.  Grill for about 10 minutes total, turning every 2-3 minutes until the kernels are lightly charred on all sides of the cobs.  Remove from the grill to a large baking dish or plate. Using a brush or spoon, slather each ear of corn with the sauce, then sprinkle with remaining crumbled cojita cheese.  Sprinkle with additional chipotle pepper and chopped cilantro and serve with extra lime wedges, if desired.