Marinated Mushrooms
Marinated Mushrooms
Marinated Mushrooms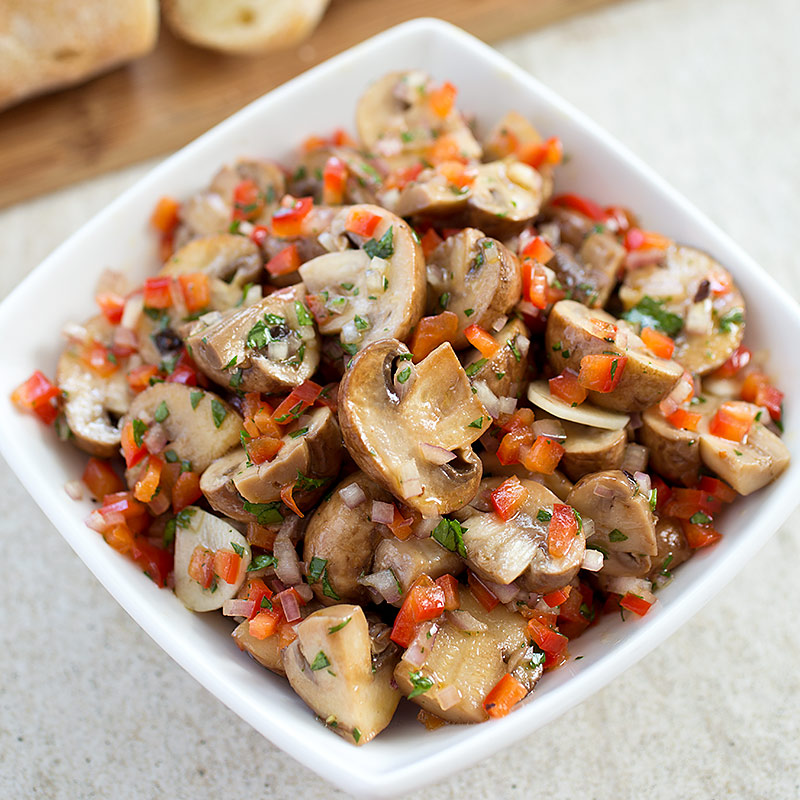 Cooking the mushrooms over relatively high heat encourages them to quickly
release liquid, which can then be reduced to a concentrated, flavorful glaze.
1/4 C. extra-virgin olive oil
1/8 tsp. red pepper flakes
Salt and pepper
1 lb. cremini or white mushrooms, trimmed, left whole if small, halved if medium, quartered if large
3 tsp. lemon juice
1 garlic clove, sliced very thin
1 large shallot, minced
1/4 small red bell pepper, chopped fine
1 tsp. minced fresh thyme or 1 tsp. chopped fresh parsley or basil
Heat 3 tsp. oil, pepper flakes, and 'h tsp. salt in 12-inch skillet over medium-high heat until shimmering. Add mushrooms and 2 tsp. lemon juice. Cook, stirring frequently, until mushrooms release moisture, moisture evaporates, and mushrooms have browned around edges, about 10 minutes. Spread mushrooms in single layer on large plate or rimmed baking sheet; cool to room temperature, about 20 minutes. When cooled, transfer mushrooms to medium bowl, leaving behind any juices. Stir garlic, shallot, and bell pepper into mushrooms, cover with plastic wrap, and refrigerate at least 6 or up to 24 hours. Allow mushrooms to stand at room temperature about 1 hour. Stir in remaining 1 tsp. olive oil, 1 tsp. lemon juice, and thyme and season with salt and pepper to taste before serving.