Muffin Tin Crab Cakes
Muffin Tin Crab Cakes
Muffin Tin Crab Cakes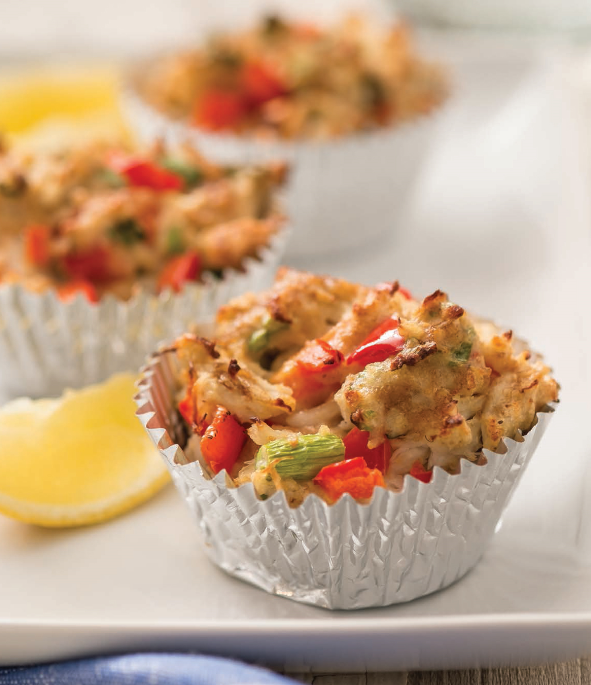 1 pound crabmeat
2 C. fresh whole-wheat breadcrumbs,
½ red bell pepper, minced
3 scallions, sliced
¼ C. mayonnaise / Light Mayonnaise / Low-Fat Mayonnaise
2 large eggs
1 large egg white
10 dashes hot sauce, such as Tabasco
½ tsp. celery salt
¼ tsp. freshly ground pepper
¼ tsp. Old Bay Seasoning, optional
6 lemon wedges, for garnish
Preheat oven to 450°F. Generously coat a 12-cup. nonstick muffin pan with cooking spray. Mix crab, breadcrumbs, bell pepper, scallions, mayonnaise, eggs, egg white, hot sauce, celery salt and pepper in a large bowl until well combined. Divide mixture evenly among muffin cup. Bake until crispy and cooked through, 20 to 25 minutes. Serve with lemon wedges. Tip: To make fresh breadcrumbs: Trim crusts from firm sandwich bread. Tear bread into pieces and process in a food processor until a coarse crumb forms. One slice of bread makes about ⅓ C. crumbs.
I personally would rather have more fat and calories and eat real mayonnaise with 6-8 natural ingredients (less if you make your own!), rather than a processed version (it's called mayonnaise DRESSSING then) with 13-17 ingredients. I looked at the olive oil mayo, and it's no better than the others. It still contains soybean oil, and other "non natural" ingredients and is only 10 calories less than Real Mayo.
Yield: 6 servings
Calories: 255 / 212 / 199
Fat: 12g / 7g / 5g
Fiber: 4g / 4g / 4g
Calories per T.
Low-Fat Mayo: 15
Canola Cholesterol Free: 40
Light Mayo: 35
Olive Oil: 60
Mayo: 70