Baked Brie Strata
Baked Brie Strata
Baked Brie Strata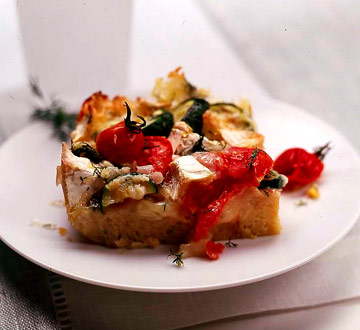 2 small Zucchini, cut crosswise into ¼" thick slices, about 2 C.
Salt & Pepper
Olive Oil Pam
6 slices Whole Wheat Bread, dried, and torn into bite sized pieces
4.4oz. pkg. Brie, cut into ½" cubes
1 C. halved Cherry Tomatoes
4 Eggs
2/3 C. evaporated Fat-Free Milk
1/3 C. Scallions, sliced
3 T. chopped fresh Dill
Salt and Pepper
In covered medium saucepan, cook zucchini in a small amount of boiling water for 2-3 minutes, or until just tender. Drain and transfer to medium bowl. Season with salt and pepper and set aside. Meanwhile, coat a 2 quart rectangular baking dish with nonstick cooking spray. Arrange 4 C. of the bread in the baking dish. Arrange zucchini and tomatoes on top. Cover with remaining 2 C. of bread pieces. In medium bowl, whisk together eggs, milk, green onions, dill, salt and pepper. Pour evenly over bread mixture in baking dish. Lightly press down layers with the back of a spoon. Cover with plastic wrap and chill in the refrigerator for 4 to 24 hours. Preheat oven to 325. Remove plastic wrap and cover baking dish with foil. Bake for 30 minutes. Uncover and then back an additional 25-30 minutes or until a knife inserted into the center comes out clean. Let stand for 10 minutes before slicing and serving.
Yield: 6 servings
Calories: 216
Fat: 10g
Fiber: 3g