Cherry Tomato, Basil & Balsamic Sauce French Toast
Cherry Tomato, Basil & Balsamic Sauce French Toast
Cherry Tomato, Basil & Balsamic Sauce French Toast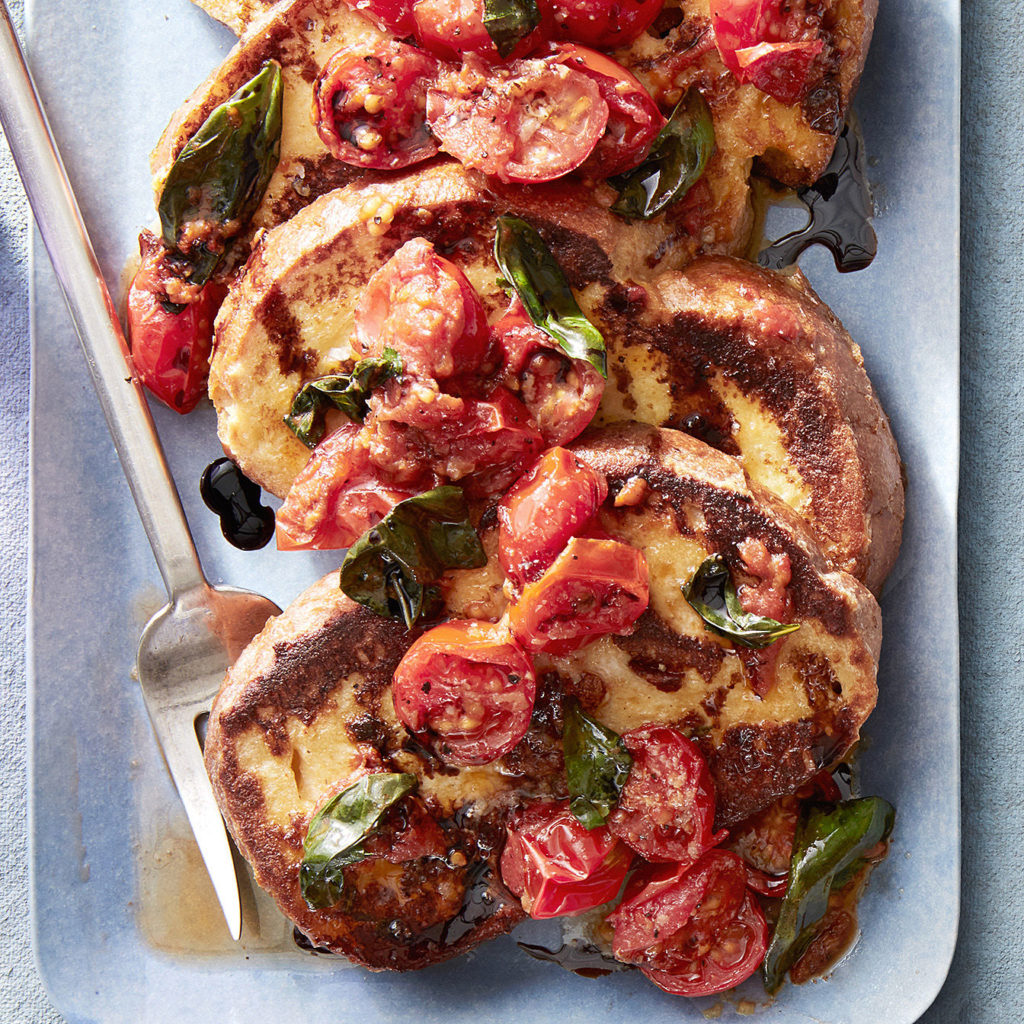 6 large organic eggs
1 cup (a couple of generous handfuls) freshly grated Parmigiano-Reggiano
1 cup half-and-half or heavy cream
About 1 tbsp. freshly stripped thyme leaves
Freshly grated or ground nutmeg, about 1/8 tsp. or to taste
Salt and pepper
8 slices (1/2 to 3/4 inch thick) stale, good-quality white peasant or Italian bread
4 tbsp. butter
Preheat the oven to 200°. In a shallow bowl or dish, whisk the eggs, cheese, half-and-half, thyme and nutmeg; season with salt and pepper.  Heat a large griddle or cast-iron skillet over medium. Working with 2 slices of bread at a time, soak the bread in the egg mixture, about 20 seconds on each side. Melt 1 tbsp. butter in the griddle for each batch of French toast; lift the bread from the dish and let the excess egg batter drain. Cook the toast until it is deeply golden on each side and springs back when pressed with your finger, about 2 minutes per side. Place in the oven or tent with foil to keep warm.  Add Sauce.
2 tbsp. olive oil
2 tbsp. butter
4 cloves garlic, thinly sliced or grated
2 pts. (4 cups) cherry tomatoes or 2 packages (12 to 14 oz. each) cherry tomatoes on the vine, halved
Salt and black pepper or crushed red pepper
1/3 cup (a handful) fresh basil leaves, torn
1 tbsp. balsamic drizzle (buy my balsamic drizzle at RachaelRayStore.com or aged balsamic vinegar
In a skillet with a lid, heat the oil, two turns of the pan, over medium-high. Melt the butter into the oil, add the garlic and swirl the skillet until the garlic is fragrant, 30 to 60 seconds. Add the tomatoes, season with salt and pepper, and cover. Cook, shaking the skillet occasionally, until the tomatoes break down, 10 to 15 minutes. Uncover, reduce the heat to medium-low, stir in the basil and simmer until the sauce thickens slightly, 5 to 10 minutes more. Stir in the balsamic drizzle. Spoon over the Savory French Toast.