Crispy Corn Fritters
Crispy Corn Fritters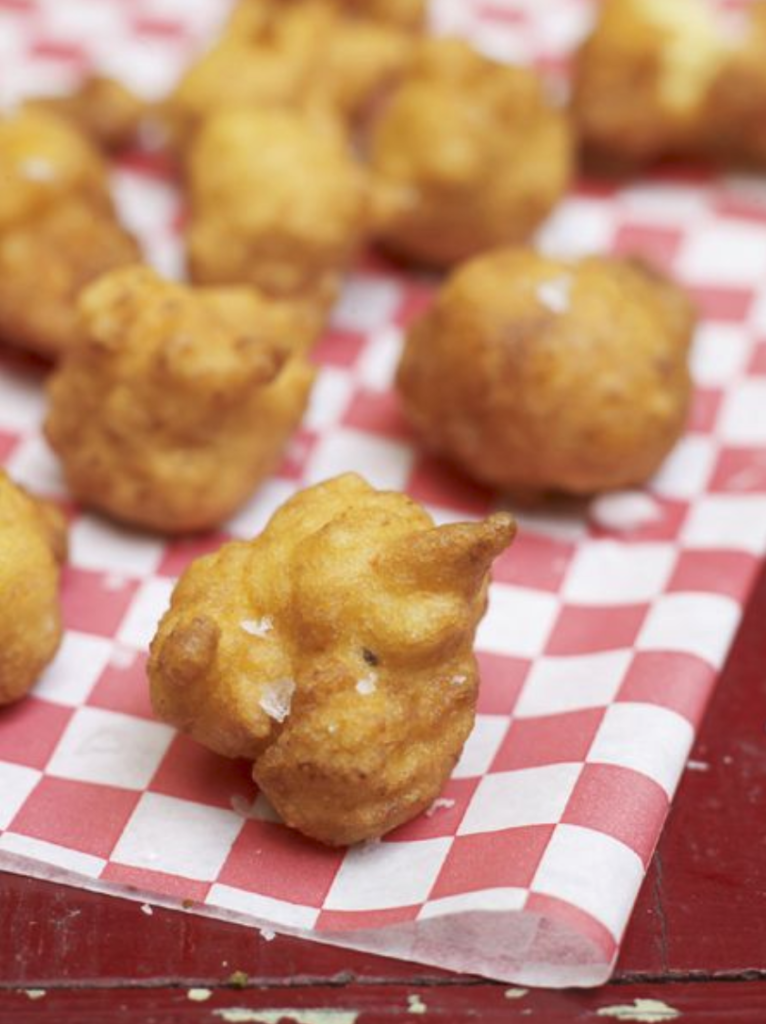 Crispy Corn Fritters
5 to 6 ears of corn, shucked
2 large eggs
Kosher salt
3/4 cup all-purpose flour
1/2 teaspoon baking powder
1/8 teaspoon cayenne
Vegetable oil, for frying
On a large plate, using the coarse holes of a box grater, grate 5 ears of corn with swift downward strokes (to avoid the fiber from the cob). Be sure to catch all the milk. Measure the corn mixture, and if necessary continue with the last ear to make exactly 1 cup corn. Transfer it to a medium bowl.
Separate the eggs over a small bowl, allowing the whites to fall into the bowl and adding the yolks to the corn. With a fork, combine the yolks, corn, and ½  teaspoon salt. Sift the flour, baking powder, and cayenne directly onto the corn mixture and mix to combine.  Pour 2 inches of oil into a large, deep skillet, making sure that the oil does not fill the pan more than halfway, and heat over low heat. Meanwhile, beat the egg whites to soft peaks and gently fold them into the corn mixture. Raise the heat under the skillet to medium, and heat until the oil reaches 35O°F on a deep-fat thermometer.
Working with two small tablespoons, carefully lay about 10 dollops of batter into the hot oil—fewer if they begin to crowd the pan. Fry for 2 to 3 minutes, until golden brown, flipping them about halfway through cooking. Transfer the fritters with a slotted spoon directly onto a clean brown paper bag to drain. Repeat with the remaining batter. Season with salt to taste, and serve immediately.