Pho-Flavor Flank Steak Lettuce Wraps
Pho-Flavor Flank Steak Lettuce Wraps
Pho-Flavor Flank Steak Lettuce Wraps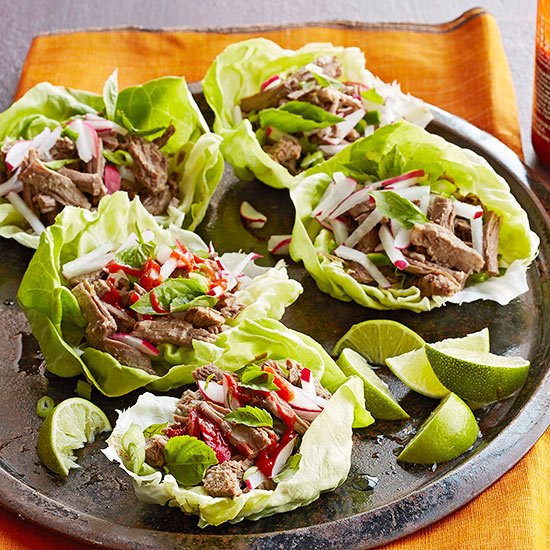 2 pounds beef flank steak
2 cups coarsely chopped yellow onions (2 large)
2 cups water
1/4 cup fish sauce
2 tablespoons sugar
2 tablespoons rice vinegar
2 fresh jalapeno chile peppers, finely chopped*
4 teaspoons Chinese five-spice powder
12 large Boston lettuce, Swiss chard, or napa cabbage leaves
4 ounces radishes, cut into thin bite-size strips (1 cup)
3/4 cup fresh Thai basil leaves
3 green onions, thinly sliced diagonally
2 tablespoons lime juice
Asian chili sauce (Sriracha sauce) (optional)
Lime wedges (optional)
Trim fat from meat. Cut meat into 2-inch pieces. Place meat in a 3 1/2- or 4-quart slow cooker. Top with yellow onions. In a medium bowl combine the water, fish sauce, sugar, vinegar, half of the jalapeno peppers, and the five-spice powder. Pour vinegar mixture over mixture in cooker.
Cover and cook on low-heat setting for 5 to 6 hours or on high-heat setting for 2 1/2 to 3 hours.
Remove meat from cooker, reserving cooking liquid. Transfer half of the meat to an airtight container or freezer container; cover and chill or freeze for another use. Shred or chop the remaining meat; transfer to a medium bowl. Strain cooking liquid. Stir enough of the strained liquid (about 1/4 cup) into shredded meat to moisten. To serve, divide shredded meat among lettuce leaves. Top with radishes, basil leaves, green onions, and the remaining jalapeno peppers. Sprinkle with lime juice. If desired, serve with Asian chili sauce and lime wedges. From the Test Kitchen: Because chile peppers contain volatile oils that can burn your skin and eyes, avoid direct contact with them as much as possible. When working with chile peppers, wear plastic or rubber gloves. If your bare hands do touch the peppers, wash your hands and nails well with soap and warm water.
Yield: 6 servings
Calories: 229
Fat: 9g
Fiber: 2g