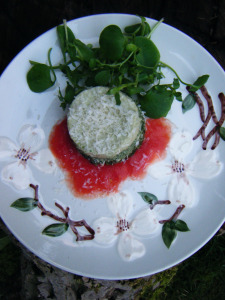 Softened butter for the ramekins or flan molds
½ to 1 lb. fresh young nettle leaves (depending on how much nettle you desire, I generally use about ¾ lb.)
4 large fresh farm eggs
1 tsp. salt
1/4 tsp. freshly ground black pepper
Pinch of freshly grated nutmeg
1/3 C. chopped chives
4 fresh sage leaves
1/3 C. grated Pecorino Romano or Parmesan cheese
2 C. heavy cream
Preheat the oven to 275° F and place the rack in the center position. Butter six 8-oz. ceramic ramekins, glass custard C. or glass canning jars. Cook the nettle leaves in a large pot of boiling salted water until tender, about 2-3 minutes. Drain thoroughly, rinse under cold water until cool enough to handle, then with your hands, squeeze out as much water as possible. In a small bowl, whisk the eggs, salt, pepper and nutmeg together until blended. Combine the squeezed nettles, chives and sage in a food processor and process until finely chopped. Add the egg mixture and grated cheese and process until the mixture is extremely smooth, about 3 minutes. Add the cream and process until thoroughly incorporated, about 30 seconds. Divide the nettle mixture among the prepared ramekins. Set the ramekins in a large baking dish so they don't touch each other. Place the dish on the oven rack and pour in enough hot water to come halfway up the sides of the ramekins. Bake until the centers are firm to the touch, about an hour. Remove the baking dish from the oven and let the flans cool in the water for 10 minutes. Run a thin-bladed knife around the sides of the ramekins and invert the flans onto serving plates. Serve with a light tomato sauce or a simple green salad and a little grated or shaved cheese over the top if desired.