Padron Pepper and Goat Cheese Tacos with Smoked Salt and Cilantro Lime Crema
Padron Pepper and Goat Cheese Tacos with Smoked Salt and Cilantro Lime Crema
Look for padron peppers at farmer's markets or fancy foodie stores throughout the late summer. If you're sensitive to spice, fry up a batch on their own first to test them out. Peppers from the same farm tend to have the same ratio of hot to mild peppers. If you get a hot one, you can spit it out; but if it's in your taco, you'll be stuck eating it.
Have all your other ingredients ready before frying the peppers so that they stay warm; they only take a few minutes to cook. For the tomatoes, I like to use one dry-farmed red, and one heirloom yellow; you may not need to use all the tomatoes. Be sure to drink the delicious juice they let off. It pays to seek out good corn tortillas.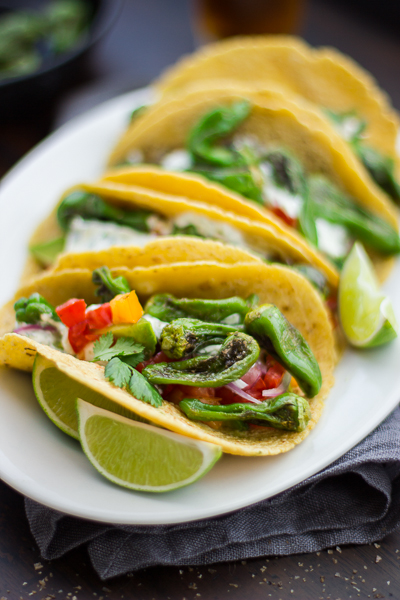 2 small tomatoes
salt, as needed
1/3 C. sour cream
2-3 T. finely chopped cilantro, plus a few leaves for garnish
juice of half a lime
1 T. olive oil
1 pint basket padron peppers
a few pinches of smoked sea salt
4 (6-inch) corn tortillas (or a corn/wheat blend)
2 ounces fresh goat cheese, crumbled (about 1/2 C.)
1 medium-sized ripe avocado, halved, pitted, and sliced
several paper-thin slivers from a red onion
lime wedges
Dice the tomatoes, sprinkle with a pinch of salt, and let drain in a sieve while you get on with the recipe. In a small bowl, stir together the sour cream, cilantro, lime juice, and a big pinch of salt. Taste, adding more lime or salt if you like. Set aside, or cover and chill for up to a day or two. Use a pair of scissors to cut the stems off the peppers (their crowns are edible). Rinse the peppers and drain them well. Heat 1 T. olive oil in a 10″ cast iron skillet set over a medium flame until it shimmers. Add the peppers and cook, tossing occasionally, until blistered all over and blackened in places, about 5 minutes. They will pop and spit; lower the temperature if things are getting too crazy. Sprinkle with a few pinches of the smoked salt.
In another skillet, warm the tortillas on both sides until soft and pliable. Place the tortillas on a couple of plates, and build the tacos. I like the following order:
goat cheese
avocado slices
diced tomato
sliced onion
cilantro lime crema
padron peppers
Top with a sprinkle of smoked salt and a few cilantro leaves. Serve immediately, with lime wedges for squeezing over the tops.