Marrow Beans with Swiss Chard and Zesty Lemon
Marrow Beans with Swiss Chard and Zesty Lemon
This is a plump white bean with a creamy texture, it was popular in the U.S. in the 1850's as a baking bean. They have the flavor of bacon and work well pureed for soup. Great Northern Beans can be substituted.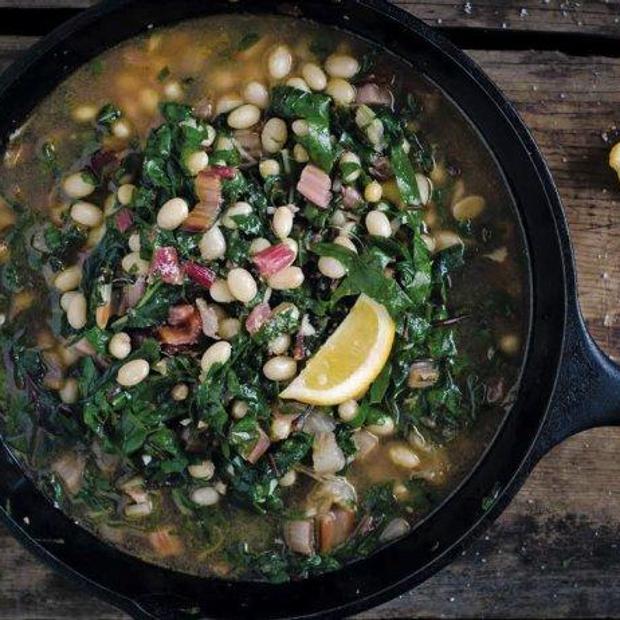 1 1/2 C. marrow beans
1/4 tsp. baking soda
1 large bunch Swiss chard (about 12 oz.)
1 T. extra virgin olive oil
2 cloves garlic, minced
1/4 tsp. crushed red pepper flakes
finely grated zest and juice of 1 lemon
1 1/2 C. chicken or vegetable broth, preferably homemade
Unrefined sea salt, finely ground
Pour the beans into a large mixing bowl, cover with hot water by 2 inches and stir in the baking soda. Cover the bowl with a kitchen towel and allow it to sit on the kitchen counter for at least 18 and up to 24 hours. Drain the beans and rinse them well. Put the soaked beans in a large stockpot and pour in enough water to cover the beans by 2 inches. Bring them to a boil over medium‑high heat, cover and simmer until tender, about 1 1/2 hours. Drain the beans and set aside. Using a sharp paring knife, separate the chard stems from the greens. Finely chop the stems and set them in a small bowl. Stack the leaves on top of one another, roll them into a cigar, and slice crosswise into strips 1/4 to 1/2 inch wide. Warm the olive oil in a large skillet over medium heat. Toss in the garlic and chopped chard stems and sauté until the garlic softens and the color of the chard stems turns ever so slightly more vibrant, about 2 minutes. Stir in the red pepper flakes and lemon zest and cook for a minute or two, then add the beans to the skillet. Sauté the beans for 3 to 5 minutes, until they acquire the flavor of the garlic and lemon. Grab chard leaves by the handful and drop them into the hot pan. Stir once or twice to mix them with the beans, then add the broth. Cover and simmer until the chard leaves wilt, about 3 minutes. Remove from the heat, stir in the lemon juice and season with salt. Serve hot.