Cooking Nopales
Cooking Nopales
Cleaning cactus is no easy feat to accomplish. In fact, I was too scared to attempt it until I was older, for fear of getting pricked. That's because even though the bigger needles are visible to the naked eye, there are also some tiny needles that are as clear as water and virtually invisible. You can blanch your cactus, boil it, saute it, or even cure it in salt for a different approach. Heck, some people blend cactus into their green smoothies. Note that the smaller the paddle, the more tender the cactus will be.
6 nopales (cactus pads)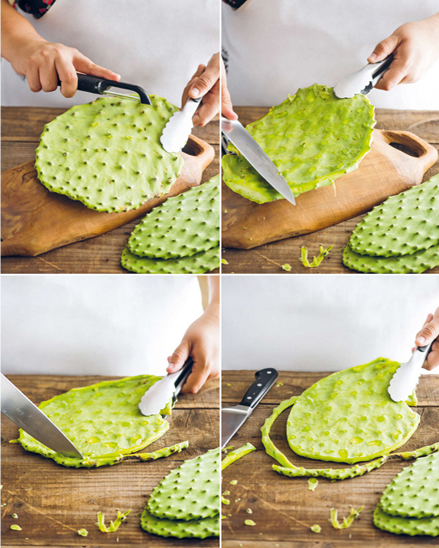 1 tomatillo husk (to reduce the viscosity effect)
1/4 white onion
1 garlic clove
1/2 tsp. of salt
VERY IMPORTANT TIP: Use kitchen tongs to hold the nopales or, better yet, wear gloves to protect your hands from the thorns. Once you are familiar working with cactus paddles then you can try to clean them without gloves. Place the cactus paddle on your cutting board and, using a sharp knife, trim off the edge. Scrape the spines, thorns or eyes, running your knife from back to front until completely clean. Turn the cactus paddles and do the same on the other side. Repeat the same steps with the rest of the cactus paddles. Finally rinse the cactus paddles and take them back to your clean cutting board. Place a medium size pot with 4 quarts of water to boil. Cut the cactus paddles in small strips. Once the water is boiling add the cactus, onion, garlic, 1/2 tsp. of salt and the tomatillo husk. Boil uncovered for about 8-10 minutes or until tender. The cactus will exude a sticky substance and most times will foam, so, pay special attention to this step to avoid the foam to spill over. Once cooked, drain and rinse the cactus. Let them drain completely or pat them dry with paper towels. Now, your nopales are ready to be prepared into salads, scrambled eggs, as an addition to your Mexican stews, etc. Note: Nopales also taste good grilled and topped with melted cheese. Just make 3-4 small cuts to each nopal after you cleaned the spines; brush them with oil and grill them for about 3 minutes on each side.