Sheet Pan Suppers: Shrimp & Polenta with Crispy Pancetta Tuiles
Sheet Pan Suppers: Shrimp & Polenta with Crispy Pancetta Tuiles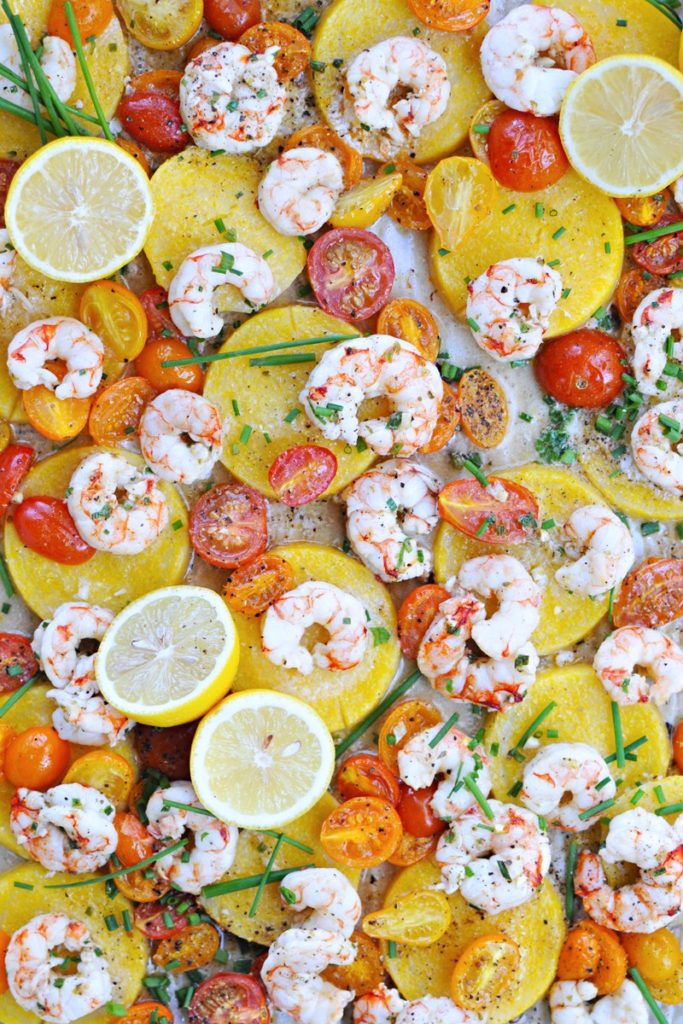 8-10 very thin slices round unsmoked pancetta
1 tube (18 oz.) precooked polenta, sliced into ½" thick rounds (about 16 slices)
½ pint cherry tomatoes, halved
1.5 T plus 1 tsp. extra virgin olive oil
kosher salt and freshly ground black pepper
1 T freshly squeezed lemon juice
1 or 2 cloves garlic, minced
½ tsp. oregano
½ tsp. Worcestershire sauce
1 tsp. chopped fresh chives
1 generous pound 26/30 count raw shrimp, peeled and deveined, tails removed, blotted dry
Preheat oven to 400F with rack in center position. Line a sheet pan with parchment paper. Line a plate with paper towels. Arrange pancetta rounds on prepared pan and bake until crisp, 5-7 mins. Remove to the lined plate to cool and drain; set aside. (Keep parchment on the pan.) Place polenta rounds on the used sheet pan on top of the pancetta drippings. In a large bowl, toss together the cherry tomatoes with 1 tsp. olive oil, ¼ tsp. salt and ¼ tsp. pepper. Scatter tomatoes around and over polenta. Bake tomatoes and polenta for about 10 mins.
Meanwhile, whisk together remaining 1.5 T olive oil, lemon juice, garlic, oregano, Worcestershire, ¼ tsp. salt, ¼ tsp. pepper and chives in a large bowl. Add shrimp and toss to coat. After polenta and tomatoes have baked for 10 mins, arrange shrimp over the top in a single layer and return pan to the oven. Roast until shrimp are pink and just cooked through, about 8-10 mins. Serve shrimp, tomatoes and polenta warm with pancetta crisps on top. Enjoy!
The recipe above is taken directly from Sheet Pan Suppers. I modified the version pictured here in the following ways:
Subbing pancetta for halloumi cheese: Swap the pancetta rounds for 7-8 oz of thinly sliced halloumi cheese. Arrange the slices on the parchment as you would the pancetta and bake for 10-12 mins, or until crisp and brown on the edges (it'll still have a bit of that halloumi 'squeak' in the middle). Set aside to enjoy with the finished dish.
Seasoning the polenta: Knowing that the brand of prepared polenta I usually buy is quite bland, I opted to liberally season the rounds with salt and pepper before arranging them on the sheet pan and topping them with the tomatoes.