Preserved Lemon Citrus Chicken with Chervil Gremolata
Preserved Lemon Citrus Chicken with Chervil Gremolata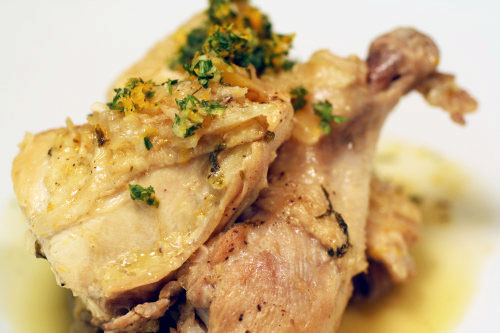 1 chicken, cut into pieces, about 4-4 1/2 pounds
1 T. chopped fresh chervil
Salt and pepper
2 T. olive oil
1 or 2 small preserved lemons, thinly sliced, seeded, and rinsed
2 cloves garlic, thinly sliced
Zest of 1/2 orange
Zest of 1/2 lemon
3/4 C. dry white wine
1 C. chicken stock
2 T. crème fraîche
When you buy a whole chicken cut up into pieces, you will get 2 breasts, 2 thighs, 2 wings, and 2 legs. Because the breasts are so much bigger than the other pieces, I cut them each in half, cutting perpendicularly through the bone. Season the chicken pieces liberally with salt and pepper, and sprinkle with 1 T. chopped fresh chervil. Heat a wide, deep sauté pan over medium heat, and when the pan is hot, add the oil. Place the chicken in the hot pan, and sear until golden brown. Turn over, and sear until golden brown on the other side. Remove to a plate. Lower the heat to low, and add the preserved lemons, garlic, and citrus zests. Quickly stir them around in the hot oil, and then add the white wine. Raise the heat to high, and use a whisk to pick up all the pieces of crisp chicken from the bottom of the pan. Add the stock, and season with salt and pepper. Add the chicken pieces back into the pot, and when the liquid boils, reduce the heat to low. Cover the pot, and cook for 30 minutes. Remove the lid, and cook uncovered for 5 minutes more. Take the pan off the heat, and move the chicken pieces to a serving platter. Whisk 2 T. of crème fraîche into the hot wine and stock, then pour over the chicken. Top with the Chervil Gremolata (recipe follows) and serve with crusty baguette or colorful couscous.
Chervil Gremolata
1 clove garlic, finely chopped
Zest 1/2 orange
Zest 1/2 lemon
2 stems fresh thyme, leaves finely chopped
2 T. chopped fresh chervil
Salt and pepper
2 T. finely chopped preserved lemon (about 1/2 small preserved lemon)
Mix together all the ingredients in a small bowl, then sprinkle on top of the hot Preserved Lemon Citrus Chicken.