Indian Spiced Potatoes
Indian Spiced Potatoes
Notes: Start preparing these sweet-hot garlicky potatoes from expert Indian cook Hema Alur-Kundargi (through step 2) about 2 hours ahead so they can marinate in the sauce. Scoop the potatoes into the chapatis or whole-wheat tortillas to eat like burritos; for appetizer portions, cut the bread into wedges and use them to scoop up the potatoes.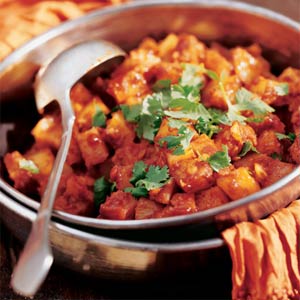 2 pounds thin-skinned potatoes
1/4 cup minced garlic
2 tablespoons vegetable oil
1 cup ketchup
1 tablespoon pav-bhaji masala, purchased or homemade (recipe below)
Salt
Indian red chili powder or cayenne
Chopped fresh cilantro
8 chapatis or whole-wheat tortillas (7 in.)
Peel potatoes and cut into 3/4-inch chunks. In a 3- to 4-quart pan over high heat, bring 1 quart water and the potatoes to a boil. Reduce heat, cover, and simmer until potatoes are almost tender when pierced, 7 to 10 minutes. Drain and return to pan.
Meanwhile, in a 6- to 8-inch frying pan over medium heat, stir garlic in oil until it begins to turn golden, about 2 minutes. Add ketchup, pav-bhaji masala, and salt and chili powder to taste. Add the seasoned ketchup to potatoes and mix to coat. Cover and let stand about 1 1/2 hours.
Pour potatoes into a 10- by 15-inch nonstick baking pan. Bake in a 375° regular or convection oven, stirring occasionally, until potatoes are tender when pierced, 10 to 15 minutes. Scrape into a bowl and sprinkle with cilantro. Serve with chapatis.
Pav-bhaji masala: In a small bowl, mix 1 teaspoon ground coriander, 3/4 teaspoon ground cumin, 1/2 teaspoon cayenne, and 1/4 teaspoon each ground cardamom and ground pepper.