Asparagus, Peas and Fava Beans with Hollandaise Sauce
Asparagus, Peas and Fava Beans with Hollandaise Sauce
2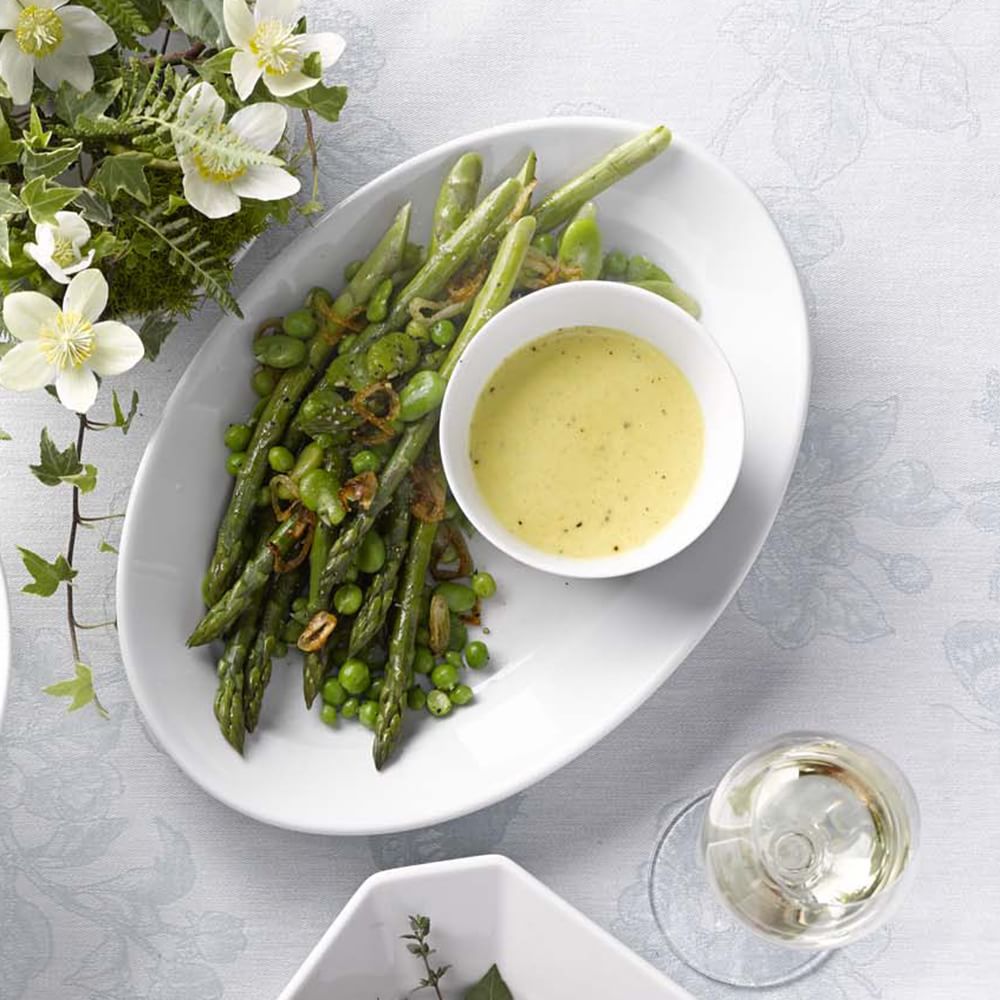 egg yolks
1 1/2 T. fresh lemon juice
10 T. (1 1/4 sticks) (5 oz./155 g) unsalted butter, melted and kept warm
1/2 tsp. kosher salt, plus more, to taste
2 T. olive oil
2 shallots, thinly sliced into rings
Freshly ground pepper, to taste
1 bunch asparagus, ends trimmed, spears cut on the bias into 2-inch (5-cm) pieces
1 cup shelled English peas or defrosted frozen peas
1 cup shelled and skinned fava beans
1/4 cup water
In a small bowl, using an immersion blender, blend the egg yolks and lemon juice until well combined. Moving the immersion blender up and down while blending, gradually drizzle in the butter until the hollandaise sauce is thick and creamy. Stir in the 1/2 tsp. salt. Adjust the seasoning as needed. Keep the sauce warm. In a large sauté pan over medium heat, warm 1 Tbs. of the olive oil. Add the shallots and cook, stirring occasionally, until caramelized, about 10 minutes. Season with salt and pepper. Transfer to a bowl. Set the pan over medium-high heat and warm the remaining 1 Tbs. olive oil. Add the asparagus and cook, tossing occasionally, for 2 to 3 minutes. Add the peas, fava beans and water and cook, tossing occasionally, until the water has evaporated, 2 to 3 minutes. Season with salt and pepper. Return the shallots to the pan and toss to distribute evenly. Transfer to a platter and serve immediately with the warm hollandaise sauce on the side. Serves 6 to 8.