20 Minute Sriracha Sauce Recipe
20 Minute Sriracha Sauce Recipe
Use any type of peppers you want! If you want your sauce red colored – stick to red peppers. My favorite is a combo of red jalapeno or red serrano and mini sweet peppers (the kind you find on veggie trays to eat raw) – smaller and sweeter than bell peppers.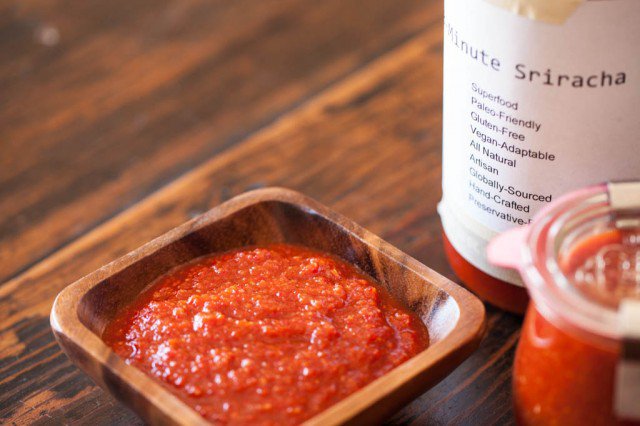 1/2 pound fresh red jalapeno peppers
1/2 pound fresh mini sweet snacking peppers
7 garlic cloves, smashed and peeled
1/3 cup apple cider vinegar (or white or unsweetened rice vinegar)
3 tablespoons tomato paste
4 tablespoons honey
2 tablespoons fish sauce, Braggs Liquid Aminos or Coconut Aminos
In a food processor or high speed blender, add all ingredients and blend until smooth. In a medium saucepan over high heat, pour the sauce in and cook on high until it begins to boil. Reduce to a simmer and cook for 10-15 minutes. Taste and adjust with additional honey, vinegar or Bragg's (or whatever you're using) if needed. You're looking for a nice balance of flavor. Fry an egg and try a spoonful on it. Tastes wonderful? Turn off heat and allow sauce to cool completely. Transfer the sriracha sauce to jars. Sriracha will keep for 2 weeks in the refrigerator. Better yet, can them and store in pantry!