Southern Fried Shrimp
Southern Fried Shrimp
2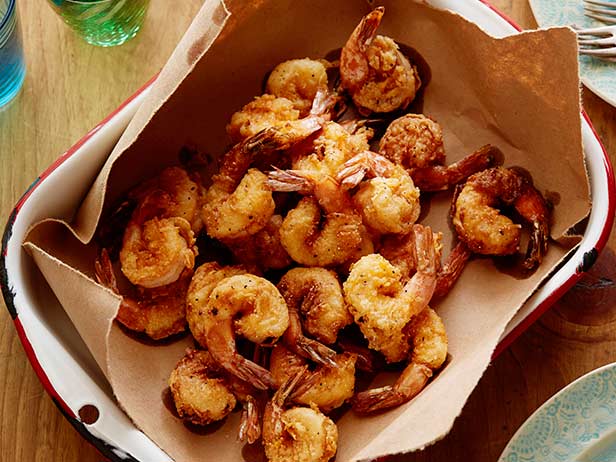 lb. deveined shrimp
2 Ziploc plastic bags
4 cups of flour
4 tsp. salt
2 tsp. pepper
4 tsp. granulated garlic
2 cups cornmeal
6 eggs
4 cups of whole milk
Peanut oil
Peel (leaving tails on) and butterfly thawed shrimp. In each Ziploc bag put 2 cups flour, 1 cup cornmeal, 2 tsp. salt, 1 tsp. pepper, 2 tsp. granulated garlic, close bag and shake well. Mix the 6 eggs in a bowl with the whole milk. Soak the deveined raw butterfly shrimp in the mixture.
Heat two pots of peanut oil (approximately 6 – 8 cups in each pot) to deep fat fry the shrimp. The peanut oil will need to be very hot to deep fat fry. Put one-half of the egg/milk soaked deveined raw butterfly shrimp in each Ziploc bags and shake. Drop battered shrimp into the hot peanut oil. Fry until golden. Using a large-holed spoon remove golden shrimp from peanut oil and place on platter lined with paper towels to soak up the grease.
Dipping Sauce
½ cup mayo
¼ cup catsup
Dash Worcestershire sauce
½ to 1 tsp. sugar to taste
Salt to taste
Mix well and serve with shrimp.