Celebration Cranberry Cake
Celebration Cranberry Cake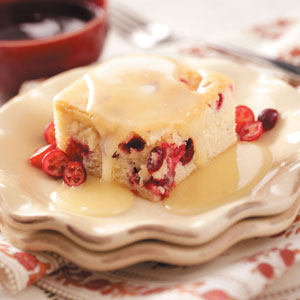 3 T. butter, softened
1 C. sugar
1 C. evaporated milk
2 C. all-purpose flour
3 tsp. baking powder
1 tsp. salt
2 C. fresh or frozen cranberries, halved
BUTTER CREAM SAUCE:
1/2 C. butter, cubed
1 C. sugar
1 C. heavy whipping cream
1 tsp. vanilla extract
 
In a large mixing bowl, cream butter and sugar until light and fluffy; beat in milk. Combine the flour, baking powder and salt; gradually add to creamed mixture. Stir in cranberries. Pour into a greased 9-in. square baking pan. Bake at 350° for 40-45 minutes or until a toothpick inserted near the center comes out clean. Cool on a wire rack. For sauce, melt butter in a saucepan. Stir in the sugar and cream; bring to a boil, stirring often. Boil for 8-10 minutes or until slightly thickened. Remove from the heat; stir in vanilla. Serve warm with cake. Yield: 9 servings.