Farro Salad with Bacon & Cauliflower
Farro Salad with Bacon & Cauliflower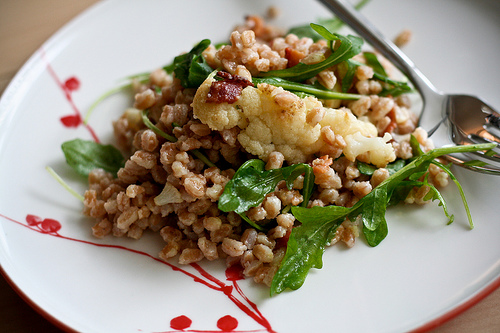 To enhance this version, add a handful or two of walnuts or pecans. Some crumbled goat cheese might also be nice here.
 
4 cups farro, cooked according to package instructions*
10 slices good-quality bacon, thinly sliced
1 head cauliflower, florets roughly chopped
4 large handfuls of arugula (or other leafy green, such as spinach)
3 tbsp. olive oil
juice of 1 lemon
2 tsp. salt
freshly ground pepper
1 cup pecan halves
 
In a large skillet, sauté the bacon over medium heat until crisp. Remove to a paper towel with a slotted spoon, but leave the fat in the skillet over the heat.  Add the cauliflower florets to the skillet and sauté for about 7 minutes, or until they become tender and begin to brown slightly. Remove the florets to a paper towel with a slotted spoon. Let the bacon and cauliflower cool, then toss with the farro and arugula. Drizzle with the olive oil and lemon juice, then sprinkle with salt and pepper. Toss until the salad is evenly coated. Top with pecan halves.  Variations:  walnuts or pecans can be added.  Try with crumbled goat cheese.   *I buy pearled farro from Whole Foods (in the bean section for some reason). The package asks you to soak it overnight. I just add about 6 cups of water to the 16 oz. that come packaged and boil for 30 – 40 minutes, or until the farro is tender, but still somewhat chewy. Drain off any excess water, cool and you're ready to make a salad.