Leek Fritters
Leek Fritters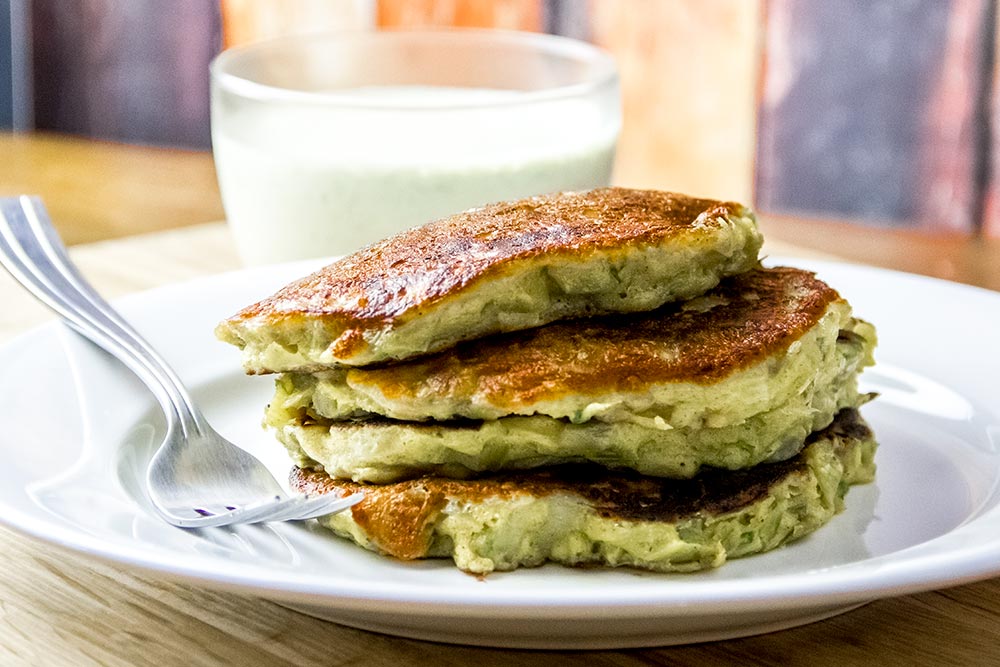 Leek Fritters
1/2 Cup Greek Yogurt
1/2 Cup Sour Cream
2 Garlic Cloves, Minced
2 Tablespoons Lemon Juice
3 Tablespoons Extra-Virgin Olive Oil
1/2 Teaspoon Salt
1/2 Cup Parsley
1 Cup Cilantro
For the Fritters
3 Leeks, Trimmed, Sliced Lengthwise, Cut into 1/2 Inch Pieces and Cleaned Thoroughly
1 Vidalia Onion, Chopped
Extra-Virgin Olive Oil
1/2 Cup Parsley, Chopped
3/4 Teaspoon Coriander
1 Teaspoon Ground Cumin
1/4 Teaspoon Ground Turmeric
1/4 Teaspoon Ground Cinnamon
1 Teaspoon Sugar
Salt
1 Egg White
3/4 Cup Plus 1 Tablespoon All-Purpose Flour
1 Tablespoon Baking Powder
1 Egg
2/3 Cup Milk
4 1/2 Tablespoons Butter, Melted
Make the Sauce: This part is super easy. Add all the sauce ingredients to a food processor with the lower blade attached. Run the processor for about 15 second or until the sauce is smooth. Finally, using a rubber spatula, transfer the sauce from the food processor into a small bowl and place in the refrigerator until you're ready to use it later.
Prepare the Vegetables & Spices: Warm a large heavy skillet over medium heat. Then, when the pan is to temperature, add 4 tablespoons of olive oil to it. Also add the cut leeks and the chopped onion and cook for 15 minutes, while stirring occasionally. The goal here is to soften and lightly brown these ingredients. When the leeks and onion have softened sufficiently, transfer them to a medium sized bowl. Add the parsley, coriander, cumin, turmeric, cinnamon, sugar and 1/2 teaspoon of salt. Mix everything thoroughly.
Add the egg white to a small bowl and whisk until it forms peaks. After the egg white has a firm consistency, transfer it to the bowl with the softened leek in it. Fold the egg whites into the vegetables.
In another medium sized bowl, add the flour, baking powder, 1/4 teaspoon salt, whole egg, milk and butter. Mix these ingredients well until they are smooth. Then, add the batter to the bowl with the vegetables in it and mix well.  Warm a large skillet over medium heat. When the pan is to temperature, add 2 tablespoons of olive oil to it and then add a few ladles of batter as well. Each fritter should consist of approximately 1 ladle-full. Let the fritters cook for about 3 minutes each side. You'll know when to flip them when you slide a fork under each one and the underside is nicely browned.  As you make your way through the fritters, set each one aside on a plate. When they are all finished, divide them among the different plates. You should end up with 8 fritters in all. Serve with a side of sauce and enjoy.