Salsa di Pomodoro della Nonna
Salsa di Pomodoro della Nonna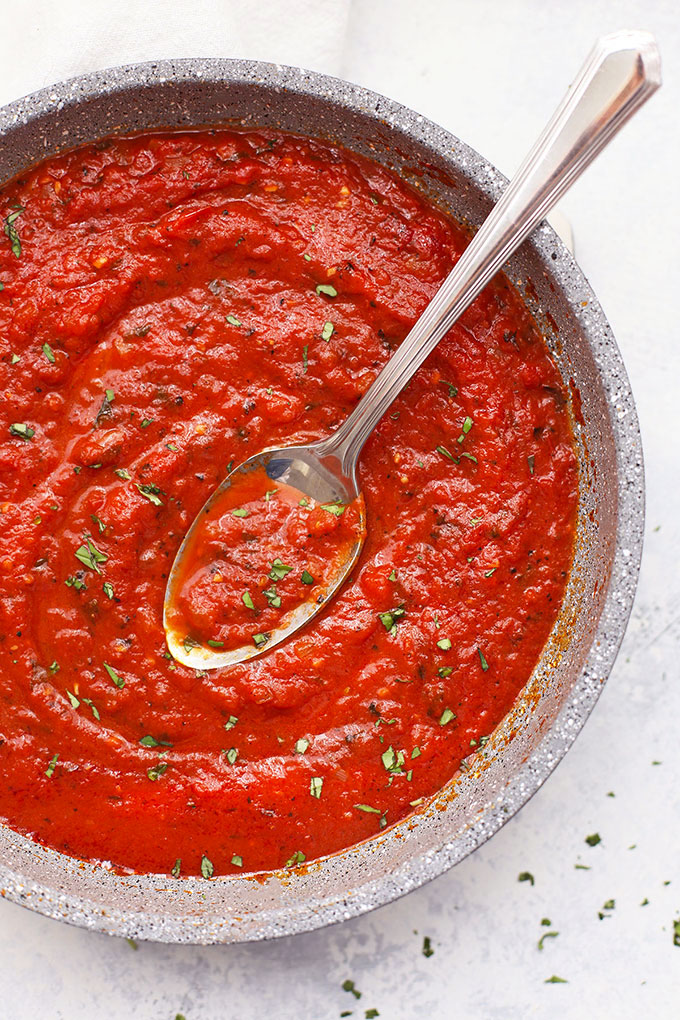 Salsa di Pomodoro della Nonna
1/4 cup extra-virgin olive oil
One 4-pound chicken, quartered
Kosher salt and freshly ground black pepper
1/4 cup peeled and finely diced carrot
1/4 cup finely diced celery
1/2 cup finely diced yellow onion
1 teaspoon minced garlic
1 teaspoon minced fresh rosemary
1 bay leaf
1/2 cup dry red wine
Two 28-ounce cans San Marzano tomatoes, put through a food mill, with juice reserved (see Chef's Note)
1/4 cup torn fresh basil leaves
Preheat the oven to 300 degrees F. Heat a large Dutch oven over medium-high heat and add the oil. Season the chicken with salt and pepper. Add the chicken to the pot and lightly brown on all sides, about 4 minutes per side. Using tongs, transfer the chicken to a plate.  Place the Dutch oven over medium-high heat and sauté the carrot, celery, onion, and garlic until tender, about 8 minutes. Add the rosemary, bay leaf, and red wine. Stir to scrape up the browned bits, then return the chicken to the pot. Cook to reduce the wine until the pot is almost dry. Pour in the milled tomatoes and season the sauce with salt and pepper.  Make a sweating lid to fit the pot. When the sweating lid is in place resting on top the chicken, slide the pot into the oven and cook for about 1 hour, or until chicken is cooked through. (You can use a regular pan lid if you don't want to cut a sweating lid from parchment but allow a little more cooking time.) Using tongs, transfer the chicken pieces to a plate. You can keep the chicken warm and serve it as a second course, or let cool, wrap, and refrigerate for another use. Add the torn basil leaves to the sauce and use this in place of any marinara sauce.
CHEF'S NOTE: Tomatoes put through a food mill have the right consistency for the sauces I make. If you don't have a food mill, you could pulse tomatoes just 3 or 4 times in a food processor (don't overprocess them), but to get the same velvety consistency of the sauces we serve at Bottega, a food mill works much better, and is an inexpensive addition to your kitchen tool set.
Cooking under a sweating lid reduces the circulation of the air in the pot and, by holding in the steam, keeps the food moister. There are two ways to cut a sweating lid: Trace the lid for the pot you'll be using on parchment paper and then cut the paper a little smaller, so the parchment fits inside the pot. The other way to make a sweating lid-the chef's way-is to tear off a piece of parchment larger than the pot. Holding one point of the parchment sheet toward you, fold the parchment into a fan, starting at the left side and folding back and forth to create accordion pleats. Hold the parchment fan over the pot with the tip of it dead center, then use kitchen shears to snip off the fat end in a curve. The sweating lid will fit down inside the pot and sit right on top the bird as it cooks, keeping it moist and flavorful.